The Barbie Movie Makes A Play For the Greatest Sci-Fi Movie Of The Year
Will our kids love this? Who cares. This looks amazing.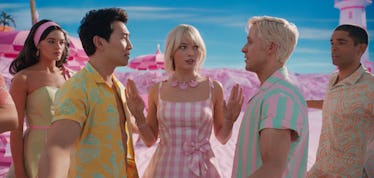 Warner Bros
Children of the '80s and '90s doubtlessly remember this moment: How to reconcile the various personalities of the different Barbie and Ken dolls in your house, but continue calling each of them "Barbie" and "Ken." Obviously, the solution to this problem was low-key sci-fi; the rules of the Barbie universe relied on some kind of speculative premise. Various versions of Barbie, Ken, Skipper et al. all occupied the same world, much like clones or Cylons or different versions of Time Lords occupy sci-fi narratives. And, it seems, the new live-action Barbie movie is basically, embracing this idea. The newest trailer for the Barbie movie looks like the best science fiction film of 2023, and we're taking our kids on opening day.
The newest teaser trailer for Barbie hits the ground running with what is maybe the movie's best joke: various characters are named Barbie, and various characters are named Ken, despite looking completely different. Yes, we've got Margot Robbie as Barbie and Ryan Gosling as Ken. But Dua Lipa is also Barbie, as is Emma Mackey, Issa Rae, Kate McKinnon, and several others! Meanwhile, you've got Simu Liu, Ncuti Gatwa, and Scott Evans as other versions of Ken. Hilariously, Michael Cera is not a Ken, but instead the only one named "Allan."
Are there rules to this topsy-turvey Black Mirror world? Will the reasons for all the duplicate Barbies and Kens be explained? Probably not, but it looks writer-director Greta Gerwig (along with co-writer husband Noah Boambach) has cranked up the other-worldliness of the Barbie status quo for a reason. Why bother doing some kind of realistic take on Barbie, when a sci-fi funhouse mirror world is more interesting?
One scene in the trailer finds Barbie (Robbie) on a road trip of some kind, and Ken is with her like they're two Replicants trying to escape the Blade Runner world, or maybe we're just thinking that because of Gosling's involvement in Blade Runner 2049. Either way, the arch humor here is spot-on, and the strange sci-fi world-building is impressively more convincing than most recent Marvel movies, or, you know, Avatar.
It remains to be seen if children will love this movie as much as the adults who are already snickering. But based on the trailers, what we love about this movie is that if our kids want to see it, we want to see it, too. Our rollerblades are packed, and we're ready to enter the Barbie matrix no matter where it takes us.
Barbie hits theaters on July 21, 2023.