Fisher-Price Rock-N-Play Recall: More Infant Deaths Linked To Baby Rocker
Fisher-Price has issued a recall for the second time for its Rock 'n Play Sleepers.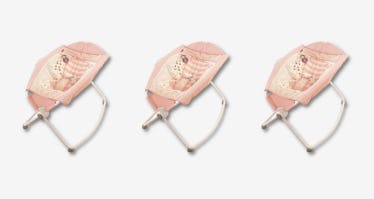 CPSC
Fisher-Price just re-issued a recall for the second time for its Rock 'n Play Sleepers. On Monday, January 9th, the company, along with the U.S. Consumer Product Safety Commission (CPSC), once again recalled the baby product following an additional eight deaths linked to the use of the product.
"On April 12, 2019, at the time the original recall was announced, over 30 fatalities were reported to have occurred in the Rock 'n Play Sleepers after the infants rolled from their back to their stomach or side while unrestrained or under other circumstances," the commission said in a recall statement.
At the time of the initial recall, Chuck Scothon, general manager at Fisher-Price, issued a statement on behalf of the company, writing, "With these actions, we want parents around the world to know that safety will always be a cornerstone of our mission, that we are committed to these values, and will continue to prioritize the health, safety, and well-being of the infants and preschoolers who utilize our products," per CNN.
Why has the Fisher-Price Rock 'n Play been recalled again?
In the nearly four years since the initial recall, which included 4.7 million products, the CPSC reports the Fisher-Price Rock 'n Play is still being used by parents despite the recall, leading to more fatalities.
"Since the recall, approximately 70 additional fatalities have been reported, which includes at least 8 fatalities that were reported to have occurred after the initial recall announcement," the CPSC statement says.
"Approximately 100 deaths have reportedly occurred while infants were in the products. Fisher-Price notes that in some of the reports, it has been unable to confirm the circumstances of the incidents or that the product was a Rock 'n Play Sleeper," the agency warned.
How to tell if your Fisher-Price Rock 'n Play has been recalled?
The recall includes all Fisher-Price Rock 'n Play products sold at all major stores nationwide, including Walmart, Target, and online at Amazon.
The products were sold between September 2009 through April 2019 and retailed between $40 and $149.
What to do if you have the Rock 'n Play at home?
The CPSC reminds parents to stop using the product "immediately" and to contact Fisher-Price for a voucher or refund.
"It is illegal to sell or distribute the recalled sleepers," the agency warns.