Fisher-Price Allegedly Ignored Rock 'n' Play Safety Issues After Infant Deaths
The Rock 'n' Play sleeper, recalled in 2019, is connected to 50 infant deaths and hundreds of injuries.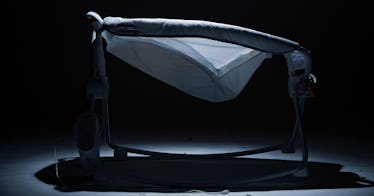 GETTY
The House Committee on Oversight and Reform has released a report suggesting Fisher-Price repeatedly ignored baby safety warnings in regards to their Rock 'n' Play Sleeper and continued to sell the sleeper after being aware of infant deaths.
The report, related to a 2019 recall of 4.7 million Rock 'n' Play Sleepers connected to 50 infant deaths, comes just days after the company issued another recall on 250,000 infant soothers related to four infant deaths, as well as infant gliders.
Fisher-Price launched the Rock 'n' Play Sleeper in 2009 and sold it for a decade, earning over $200 million from the product alone. But the report finds that executives at Fisher-Price allegedly ignored warnings from parents and health professionals about the Rock 'n' Play's safety. And they apparently continued to ignore those warnings even after infants began to die.
Here's What's In The Report
In 2008, before the product even went on to the market, the report says, there were internal concerns within the company about the product's safety. Fisher-Price also allegedly only talked to one doctor — a physician, not a pediatrician, who has been accused of practicing medicine without a valid license by the state of Texas — before putting the product on store shelves. After that point, parents and foreign regulatory bodies also warned Fisher-Price about the sleeper, NPR reports.
The report, which took 20 months for the House to complete, found that Fisher-Price also didn't take any other steps to ensure that the design of the product was safe. Easily accessible safe sleep guidelines from the American Academy of Pediatrics stress infants should be placed to sleep on their backs on a flat, firm surface with no loose blankets, toys, or stuffed animals.
"Fisher-Price ignored multiple warnings that the Rock 'n Play was not safe for infant sleep, including reports of infant injuries and deaths," said committee member Representative Carolyn Maloney, per ABC News. "Despite this clear evidence, the company continued to market the Rock 'n Play for overnight sleep, reaping hundreds of millions in revenue during the 10 years the product was on the market."
The CPSC Has Little Power to Issue Mandatory Recalls
One of the more sobering insights from the Rock 'n' Play scandal is that companies like Fisher-Price receive very little federal oversight of their products.
In fact, the Consumer Product Safety Commission (CPSC) couldn't disclose Fisher-Price's death data to the public due to legal restrictions on their power.
News of the 50 deaths only came as Consumer Reports was preparing an article on the Rock 'n' Play problem, per NPR. The recall came shortly after.
The committee's report calls for the CPSC be deputized to regulate products that are unsafe and to give them the power to issue mandatory product recalls. It also asks Congress to set up a public product death and injury database.
The CPSC Will Now Introduce a New Safety Standard for Infant Sleep Products
On June 2, 2021, the CPSC announced that they would approve a federal rule "that will ensure that products marketed, or intended for, infant sleep will provide a safe sleep environment for babies under 5 months old." (All of the babies who died in the Rock 'n' Play sleeper were four-months-old or younger.)
Noting the fact that there is no such regulation, the CPSC announced that starting in the middle of 2022, there will be a new mandatory standard for infant safety regulations.
"The new mandatory standard will effectively eliminate … hazardous sleep products in the marketplace … such as inclined sleepers, travel and compact bassinets, and in-bed sleepers, which have been linked to dozens of infant deaths. Popular products formerly referred to as 'inclined sleep products'… have been recalled over the years," the website reads.
This step will require that infant sleep products that have not yet met those CPSC regulations will be tested to ensure that they do.
The CPSC noted that they are aware of 254 incidents — 21 of them fatal — related to infant sleep products that were both inclined and flat between January 2019 and December 2020 alone. The need for strict regulatory standards is clear.
Fisher-Price Denies Wrongdoing — But Safe Infant Sleep Is A Rule of the ABC's
Fisher-Price says the Rock 'n' Play was designed "and developed following extensive research, medical advice, safety analysis… It met or exceeded all acceptable regulatory standards." They also suggest parents who didn't follow safety instructions were to blame for their infant's deaths.
Despite shifting the blame, Mattel CEO Ynon Kreiz offered condolences for any pain they may have caused families. "On behalf of myself and everyone at Mattel I want to convey my deep and sincere condolences to parents and anyone affected by the heartbreaking tragedies we will discuss today," he said in a recent statement.
Fisher-Price VP Chuck Scothon also offered a statement saying, "I assure you that everyone at Fisher-Price believes that every product we offer is safe and we do not and would never sell any product about which we thought otherwise."
At the end of the day, it's important to always remember the ABCs of safe infant sleep. Babies are supposed to be sleeping: Alone, with no blankets, stuffed animals, or pillows, on their Backs, lying flat, and in their Crib.
This article was originally published on