ICYMI: Fisher-Price is Recalling Almost 250,000 Infant Gliders
Here's how to know if you need to send yours in.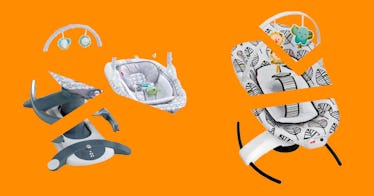 On Friday, June 4, Fisher-Price, alongside the U.S. Consumer Product Safety Commission, announced a recall of two separate infant gliders that Fisher-Price sells: the 4-in-1 Rock 'n Glide Soother and the 2-in-1 Sooth 'n Play Glider. Here's what to know about the recall.
The recall was announced after four infants between 11 weeks and four months old died while in the Rock 'n Glide Soother. These deaths occurred between April 2019 and February 2020. No babies were reported to have died using the Glider.
This problem is not new for Fisher-Price. In 2019, the retailer also recalled almost 5 million Rock 'n Play baby sleepers after 30 babies died over a decade. When that recall was made, the company had noted that the deaths were used when the products weren't used according to safety instructions. In 2017, Fisher-Price recalled 65,000 soothing motion seats due to overheating motors.
In total, the recall is of almost 250,000 soothers and gliders that were sold in North America, from the United States to Canada. The gliders/soothers rock from side to side or back and forth to gently rock babies to sleep — and the babies who had died in the soothers were unrestrained at the time of their deaths and found on their stomachs.
Per the CPSC website, the units being called are: "CHP56, CHP55 and CBT81 4-in-1 Rock 'n Glide Soothers. This recall also involves the GDD28, GDD39, GDD41, GGW85, GNX43, GVG43, HBD26 and HBD27 of the 2-in-1 Soothe 'n Play Gliders. HBT17 is sold in Canada only."
The recall and the products themselves are of massive concern to safe infant sleep advocates, as these products blend the line between asleep and awake — and the only place for babies to be safely asleep is in their crib.
There has long been concern around products that, per Nancy Cowles, executive director of Kids in Danger who spoke to NPR, "products like this that kind of blur the line between sleep and awake. We just wish that these products were made in such a way that they either were not used for sleep … or were safe for sleep, and not this in-between one where if you leave a baby sleeping in it they could get themselves in an unsafe position and suffocate."
For people who purchased the soothers and gliders from Fisher-Price, they can get a refund by calling Fisher-Price at 855-853-6224 or by visiting the company online.
As always, safe infant sleep can only be done in one place: in a crib, without any blankets, stuffed animals, or pillows that they could suffocate on. These are called the ABC's of safe infant sleep: safe infant sleep is when the baby is alone, on their back, and in the crib.
This article was originally published on