Paul Rudd's Son Is Basically His Clone In Viral, Post Super Bowl LVII Interview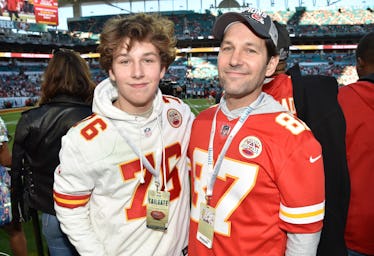 Jeff Kravitz/FilmMagic, Inc/Getty Images
It's no secret that Paul Rudd is a Kansas City Chiefs super-fan, so it was no surprise when the Ant-Man actor appeared at the 2023 Super Bowl LVII. But fans of Paul Rudd were in for a treat when it turned out that his 17-year-old son, Jack, came with him, not because it's a great father-son outing, but because the two sound and behave so similarly in a now-viral interview that you could believe that human clones are real.
The father-son duo was thrilled their team took home the trophy and stopped to speak to FOX Sports on the field to share their excitement.
"I can't believe it," Rudd exclaimed, speaking of that last-minute play that scored three points, allowing the Chiefs to win over the Philadelphia Eagles. "It was such a great game, and, wow, it all just feels so overwhelming and incredible."
Then, it was Jack's turn to shine, sharing his excitement with the microphone; you could have closed your eyes and sworn it was Rudd himself talking. Except when you open your eyes, you'll still swear it was Rudd, not his teen son, because they look and act the same, too.
"I just wanna thank Patrick Mahomes for existing, for putting in all the work, so we can just all enjoy his greatness every week," Jack said to FOX interviewer Peter Schrager.
"I'm so lucky that I am alive to watch this, and I just — I cannot believe he's a real person," Jack added. "I don't know how to explain it; I just can't believe he's a real person."
The interview was adorable. Rudd and Jack couldn't stop smiling, and they had an excited energy about them, understandably, that made it hard for them to stand still. These buzzing mannerisms and palpable joy is what Rudd is known for on and off screen that seems very uniquely him — it's one of the many reasons he's been so loved in his nearly 30, age-defying years on screen.
And now we know his son is the exact same way.
To watch their full interview, check out FOX Sports on YouTube. Paul Rudd's latest movie, Ant-Man and the Wasp: Quantumania, hits theaters on Friday, February 17th.