Ohio's $5 Million Vaccine Lottery Includes College Scholarships. It's Working
Their unique way to encourage people to get vaccinated is working.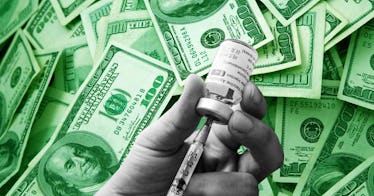 As the vaccination pace slows down and more people get approved to get the vaccine in the United States, some states have had to get creative in enticing their citizens to get vaccinated in order for the good of themselves and the community.
Some states have had their vaccine rollouts go better than others, while others have struggled with people who are concerned about the vaccine or have absorbed a decent amount of vaccine misinformation. And while that's all an issue, some states are struggling, too, to incentivize people to get vaccines beyond it being good for their health. Ohio is a state that had a unique plan to encourage vaccinations, and it's actually working. Here are the details.
To drive up the vaccination rate in the state, Ohio Gov. Mike DeWine and his team launched a $5 million lottery — or rather, $1 million to 5 separate people — that also includes college scholarships for people 12 to 17 who get vaccinated to help drive up the rate of people getting their COVID-19 vaccinations.
On May 12, DeWine announced the new initiative saying that people in Ohio who are 18 years old and older and have already received at least one of their COVID-19 doses can enter to win one of five $1 million prizes. For people in Ohio between the ages 12 to 17, those who get at least one vaccination can enter to win one of five four-year, full-ride scholarships to state colleges or universities.
The initiative has been live for almost a week, and it's already showing signs that this lottery incentive is working. According to NBC News, state officials said that on May 17, more than 25,4000 vaccine shots were administered on Friday, just two days after the program was announced. It was the highest vaccination day rate in three weeks.
"Not only have we achieved our goal of increasing public awareness and interest, but we have slowed what was a consistent decline, and in certain age groups we're seeing an increase again," state Health Director Stephanie McCloud said. "This is doing exactly what we intended it to do."
It's actually working—and that's a huge win for the state.
"We were really encouraged by those numbers. We have really struggled with that age range [30-74] in the state of Ohio," Melissa Wervey Arnold, CEO of the Ohio chapter of the American Academy of Pediatrics, said. "I think it's wonderful that it gave people a second thought."
According to DeWine's Twitter account, a winner will be announced every Wednesday for the next five weeks, starting on May 26.
This program gives an interesting perspective. If people don't want to get vaccinated because it's the best way to protect their neighbors, offer something for them, and look at how fast they book their shots.