Mickey's Toontown Is Finally Back & More Inclusive Than Ever
Mickey's Toontown at Disneyland Park has reopened after getting a redesign.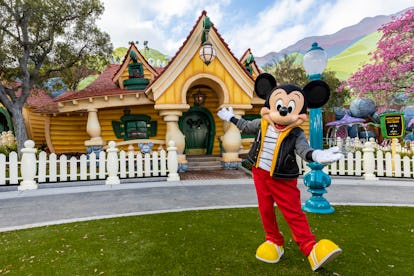 disney.com
Big news for fans of Disneyland! A long-time favorite, Mickey's Toontown at Disneyland Park, has reopened after getting a redesign aimed to make the experience more family-friendly and inclusive than it ever has been before. The newly reimagined attraction opened on March 19. Here's what you need to know.
In November 2021, Disney released details on its plan to redesign the iconic Mickey's Toontown section of Disneyland. The park officially closed on March 9, 2021 for renovations to build "on the legacy of Mickey's Toontown."
At the time, the renovations were announced as part of an effort "to create some all-new experiences so families and young children can have more opportunities to play together inside," though there wasn't too much information given about the specifics.
"The beloved Mickey's Toontown will transform into a vibrant symphony of sights, sounds, and sensations," the renovation announcement read. "Focusing on today's families with young children, Mickey's Toontown will feature new play experiences, as well as open, grassy play spaces for everyone to unplug. The land will have landscaping for both spontaneous family play and parental relaxation."
Now, nearly two years later, Mickey's Toontown is officially back, reopening its doors to guests on March 19, 2023. The redesign has kept a lot of the existing structures and iconic locations in place, many just receiving a paint update.
"Walt Disney Imagineering set out to keep the essence of what makes Mickey's Toontown special for so many while evolving it for the coming generations of families who can't wait to make new memories here," said Jeff Shaver-Moskowitz, Portfolio Executive Producer at Walt Disney Imagineering.
There has been a lot of focus put on the design of the park, making it as accessible as possible — plus with some new interactive areas. The new design is wheelchair accessible, including all parks, indoor attractions, and slides. Plus, it's all visually and auditorily approachable for kids who may have sensory issues, per CNBC.
So, what's new at Mickey's Toontown at Disneyland Park?
New interactive areas, including Mickey's House and Minnie's House, Donald's Duck Pond, CenTOONial Park, and Goofy's How-To-Play Yard.
Photo opportunities with Mickey Mouse and some of his pals, including Pete.
Mickey & Minnie's Runaway Railway, a family-friendly ride-through attraction that has no age or height restriction.
All-new food and beverage options, including Good Boy! and Café Daisy.
A new merchandise shop called EngineEar Souvenirs.
This good news comes after Disney announced some upcoming changes in its pricing policies around its parks, including Disneyland and Disney World. The park scaled back some recent changes in the cost of parking and increased the available days for its lowest-tier, lowest-cost Disneyland Park tickets.