It's About To Get Way Cheaper To Visit Disney Parks
New prices are usually bad for Disney fans, but this round of changes is a bit different. Visiting Disney will actually get cheaper.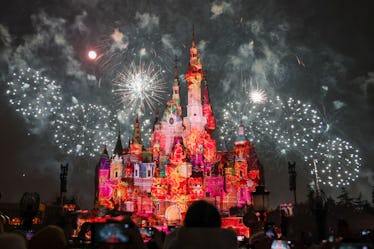 VCG/Visual China Group/Getty Images
The "happiest place on earth" has announced some upcoming changes in its pricing policies around its parks, including Disneyland and Disney World, that will make families happy. Because although new prices are usually bad for Disney fans, this round of changes is a bit different. As a result, visiting Disney will get cheaper. Here's what you need to know.
In November 2022, Disney announced price increases that made the already expensive destination even pricier. One-day, one-park tickets increased in price, jumping as much as $20 per single-day ticket, and multi-day tickets also saw a jump in price. Understandably, parents were upset because planning a trip to Disney was already expensive, and these changes pushed a visit out of the budget for many families.
But it sounds like Disney is scaling back some recent changes that upset fans, mainly around price increases and limitations for annual pass holders.
"As we step into this bright future it is important that we continuously evolve to help deliver the best guest experience possible," Disney Parks, Experiences and Products Chairman Josh D'Amaro wrote on the Disney Parks Blog. "Many of you know that I'm in the parks fairly often…and I listen to you and to our guests about the things that are working…as well as the things that might need some change."
One of the most significant changes noted in the announcement is a reduction in the cost of parking at Disney parks. The park will no longer charge $15 to $25 for overnight parking for guests registered at hotels and resorts at Disney World in Florida.
Another policy shift includes increasing the available days for its lowest-tier, lowest-cost Disneyland Park tickets in 2023, adding in close to two months' worth for the $104 ticket tier. This change should make it easier for families to find a more affordable timeframe to visit.
The reservation system at Disneyland will also see some changes following criticism from annual pass holders. Annual pass holders can now visit whenever they want without a reservation, as long as it's after 2 p.m. and not on a Saturday or Sunday. This moves away from the previously strict policy enacted during the pandemic to manage crowds, which prevented pass holders from visiting the park anytime they wanted.
"I'm excited about all of these changes and offers and want you to know that we are committed to listening, adapting, and staying relentlessly focused on making the guest experience at our Disney parks even better," D'Amaro shared.
For more, read the full blog post outlining the new changes at Disney parks.