This Map Shows The 152 Merriest Towns to Visit Over The Holiday Season
Get into the holiday spirit by visiting one of these holly jolly towns.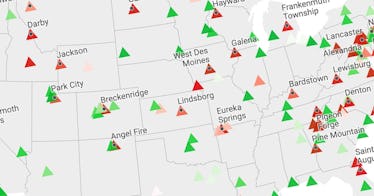 mydatingadviser
It's almost Thanksgiving, which means that it's almost time for the winter holidays, including Christmas. And one of the best parts of the holiday season is getting to see all of the lights and trees and decorations that people put up to spread some goodwill towards men.
But which towns in the United States do the best job decorating for the holidays? MyDatingAdviser was determined to find out and put together a list of the 152 best Christmas towns in the entire country.
Each town surveyed received a score out of 100 based on 21 metrics, which included Christmas activities, weather, travel, lodging, food, and a whole bunch of other factors. It turns out if you're really looking to have a holly jolly Christmas, your best bet is heading to Georgia, which had three of the top 10 Christmas towns, including the top two.
The south in general had a strong showing, with Tennessee and North Carolina towns popping up in the top 10. If you live on the west coast, there are plenty of solid options for you as well, with California, Oregon, and Washington both securing a spot in the top 10 towns.
For the east coast, it seems that Pennsylvania dominates the holiday season, while the midwest continued its tradition of being overlooked by having zero towns in the top 10. The Indiana town of Santa Claus failed to live up to its name, as it ranked 88th, potentially landings its residents on their namesake's naughty list.
10 Best Christmas Towns in the United States
Helen, Georgia
Blue Ridge, Georgia
Carmel-by-the-Sea, California
Leavenworth, Washington
New Hope, Pennsylvania
Pine Mountain, Georgia
Ligonier, Pennsylvania
Jacksonville, Oregon
Gatlinburg, Tennessee
McAdenville, North Carolina
You can see the entire ranking here, along with specific lists for what you may be looking for when it comes to the holiday experience, including the best towns for Christmas activities, weather, and food.