Kylie Jenner's Unique Baby Boy's Name Has A Sweet Connection To Sister Stormi
Months after announcing that she had changed her baby boy's name from "Wolf," Kylie Jenner has revealed his new name.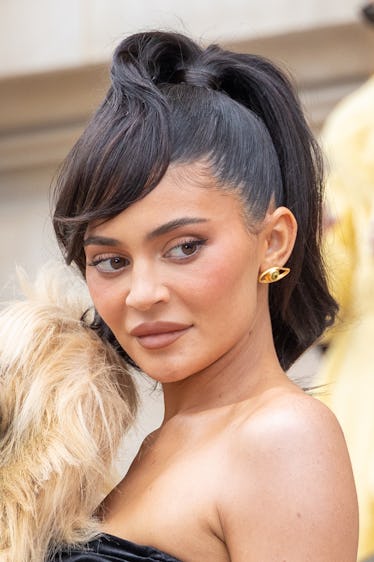 Marc Piasecki/WireImage/Getty Images
Months after announcing that she had ditched her original name for her infant son, previously named "Wolf," Kylie Jenner finally dropped the new unique baby boy's name that she and his dad, Travis Scott, have landed on. And her son's new unique name has a sweet connection to his older sister, Stormi.
According to People, Kylie recently shared several photos of her son and announced his name to the world in a caption that simply read, "AIRE," along with a white heart emoji.
A few days after Aire was born in February last year, the Keeping Up With The Kardashians star initially shared his name was Wolf only to change her mind, telling the world in March that his name "isn't Wolf anymore." The reason she gave at the time was that his name didn't seem to fit.
"We just really didn't feel like it was him," she explained. "Just wanted to share because I keep seeing Wolf everywhere."
According to Nameberry, "Aire is a bygone spelling of 'air." And with Kylie choosing to use it for her son's name, the popularity is likely to increase.
"Given that he was born on 2.2.2022 — considered angel numbers — this skyward, airy name is a perfect fit," Nameberry says of Aire's name.
Aire's unique name makes sense for Kylie and her family since it has a sweet connection to his older sister Stormi, which Nameberry points out. "It also has a meteorological connection to his big sister's name."
Aire can also be loosely inspired by the words "heir" or "billionaire," both of which fit the Kardashian-Jenner family's vibe.