The Jonas Brothers' Unexpectedly Brilliant Parenting Advice Could Prevent Plenty Of Fights
"This is some advice for you."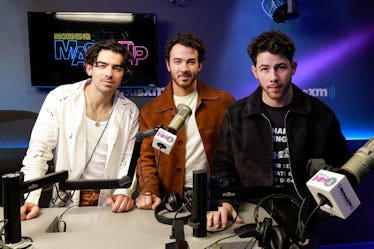 Jason Mendez/Getty Images Entertainment/Getty Images
Family is everything, and for The Jonas Brothers, that really means almost everything. The three siblings – Kevin, Joe, and Nick – have had a decades-long career together, and are now all husbands and fathers raising young children. But while they've worked together for years and turn to each other for support, there's one area in which they stay out of each other's business. It's a boundary more families should probably enact.
The Jonas Brothers visited SiriusXM Radio recently, where the brothers spoke about how why they avoid giving each other any parenting advice and how that rule came about.
"We really don't give each other advice about family. It's kind of like an unspoken rule," Kevin admitted. "We just do our own thing; do it your own way."
The hosts asked if the unspoken rule is in place because of their working relationship, but Nick said it's more a sibling thing, really.
"Well, think about it," Nick prompted. "The last thing you want to hear from your siblings is how to parent your child."
Adding, "I think we all sort of understand that and just say, 'You do your thing. I'm just gonna show up and be Uncle Nick,' and that's how it goes."
"It's a really healthy thing that we never really spoke about, but I think it's the right thing," Nick continued, joking, "So to all the siblings listening, this is some advice for you."
All three brothers have now married and are dads to lots of daughters: Kevin welcomed Alena Rose in 204 and Valentina Angelina in 2016 with his wife, Danielle. Joe welcomed Willa in 2020 and another daughter in 2022 with his wife Sophie Turner. Nick welcomed baby Malti in 2022 with his wife Priyanka Chopra. As for how they hold this boundary for the rest of their parenting years, only time will tell.