John Legend's Over-The-Top Reaction To This Parenting Milestone Is Adorably Funny
We all get a little too excited sometimes.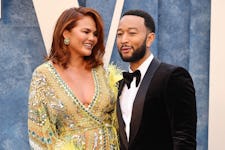 Amy Sussman/Getty Images Entertainment/Getty Images
John Legend and Chrissy Teigen's 7-month-old baby Esti Maxine just hit a huge (and meaningful) milestone, and the parents were lucky enough to capture the adorable moment on video. But it's not just the milestone that will get you laughing — it's also Legend's reaction to it, which is hilariously and relatably over-the-top.
On August 13th, Legend shared a video of Esti saying "Dada" to on Instagram. Legend talked to his little girl from behind the camera in the video. Esti was sitting on the couch while Legend asked his daughter, "What's my name?? What's my name?" over and over until he captured Esti's full attention.
Then, Teigen took over and re-phrased the question, "What's daddy's name? Dada?"And that's when the milestone was reached — Esti replied to her mom's question and said, "Dada!"
Almost immediately, Legend hyped her up and was clearly wildly excited that Esti said "Dada." He was also thrilled to have caught the moment in a video.
"We got it on tape!" Legend exclaimed. "Caught on tape baby, caught on tape," he added, turning the camera around and showing his face beaming with pride.
And in true baby fashion, after Legend's hoopla celebration, Esti burst into tears from all the excitement — and possibly because of Dad's excitement, too. "She's crying!" said Legend.
When Legend shared the video on Instagram, he summed up the video with the caption, writing, "DADA! Then I got too excited and scared her 😂🥹."
Happens to the best of us.
Earlier this summer, Legend and Teigen surprised the world when they announced the birth of their fourth kiddo, a boy, who was carried via surrogate. Their son, Wren Alexander, was born only a few months after Esti Maxine, who was born in January of the same year.
The couple are also parents to 7-year-old Luna Simone and 5-year-old Miles Theodore.