Chrissy Teigen & John Legend's 4th Baby's Unique Name Has A Very Special Meaning
Chrissy Teigen posted a social media message detailing the journey of bringing her fourth baby home — and his special name.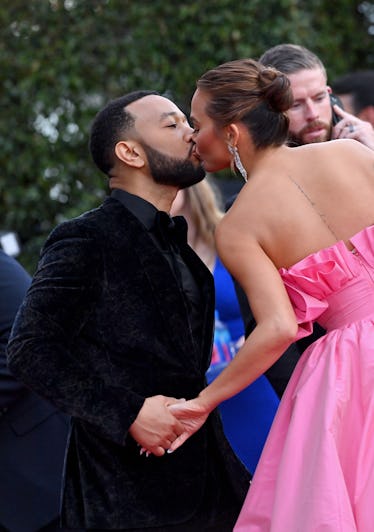 Axelle/Bauer-Griffin/FilmMagic/Getty Images
On Wednesday, June 28, Chrissy Teigen and John Legend surprised the world with the announcement that, just months after welcoming their daughter, Esti Maxine, the couple welcomed another new baby into the world. Born via surrogate, Chrissy posted a social media message detailing the journey of bringing her fourth baby home and introducing him to the world, including his unique name with a very special meaning.
"After losing Jack, I didn't think I'd be able to carry any more babies on my own," she wrote. "In 2021, we reached out to a surrogacy agency, with our first correspondence inquiring about perhaps having 2 tandem surrogates, to each bring us a healthy baby boy or girl."
The couple moved forward with their surrogacy plans and tried IVF one last time. That IVF round ended up being successful, as did the surrogacy plans. So, their family grew by two within a few very short months. Legend and Teigen welcomed their daughter Esti in January 2023, and their surrogate gave birth to their newest baby, a boy, shortly after.
In the baby announcement, Teigen gave a shoutout to their surrogate, Alexandra, who she called "the most incredible, loving, compassionate surrogate we could ever imagine," detailing their friendship and closeness.
When Teigen and Legend welcomed their third baby, Esti, Legend shared the meaning behind her name and the special connection to his great-grandmother and grandmother. So, it comes as no surprise that their newest baby, who they named Wren Alexander, has a meaningful name, too.
Their son's middle name, Alexander, is a nod to the surrogate, Alexandra, who brought him safely into the world as a thank-you for all she has done for their family.
"We want to say thank you for this incredible gift you have given us, Alexandra," Chrissy wrote in her Instagram announcement. "And we are so happy to tell the world he is here, with a name forever connected to you."
Their son's first name, Wren, is a unique name not only because we don't hear it often, but according to statistics from the U.S. Social Security Administration, the name is typically given to girls, uncommon as it is. The agency's data doesn't have any stats for boys named Wren. Instead, it explains that "Wren is not in the top 1000 names for any year of birth." It's the 184th most popular name for girls in 2022 in the U.S. and has been slowly but steadily climbing up the baby name ranks for girls over the last few years.
According to Songbird Hub, the name Wren, which is also the name of a small brown songbird, has a symbolism that "includes themes in peace and protection, but most notably with spring and rebirth." The site adds, "In most cases, wrens signify positive outcomes such as vibrance and friendliness." Also, in some religions, the songbird represents "a sign to keep going – and to push through whatever you're struggling with," the site explains.
The name does have a long history as a surname, according to House of Names. In the United States, the name Wren is the 2,698th most popular surname, with an estimated 12,435 people with that name, and it dates to the early 1600s, derived from the small brown songbird.
Although it doesn't appear Teigen and Legend have any history with Wren as a surname, some beautiful symbolism associated with the bird of the same name may have influenced their choice. Congratulations to the happy family of six!