Jason Sudeikis' Son Could Become The Next 'Ted Lasso' IRL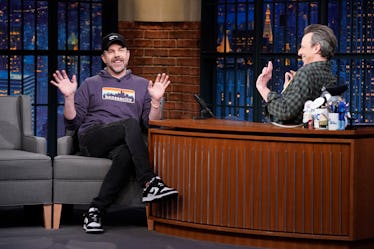 NBC/NBCUniversal/Getty Images
Jason Sudeikis might have a a little bit of a Ted Lasso on his hands at home now. The actor recently appeared on Late Night with Seth Meyers, where he revealed how playing the role of the Football coach turned soccer coach influenced his real life in a somewhat surprising way.
During their chat, Meyers asked Sudeikis if his kids have picked up an interest in soccer since he took on the role of Ted Lasso in the Apple TV+ series. Sudeikis has two kids, 8-year-old Otis and 6-year-old Daisy, whom he shares with his ex, Olivia Wilde, and after spending time in England as a family to promote the show, Sudeikis said his son's taken to soccer, but not right away.
"Oddly enough, Otis has fallen more in love with it since being back here. We got back in like November and we're out in L.A. right now," Sudeikis explained. "But him and Daisy were out there for almost all of 2022."
And not only does it sound like the kids picked up a little bit of an accent, Otis seems to have found a love for soccer.
"They started to get little tiny accents, but not enough," Sudeikis shared. "They got as far as like Dick Van Dyke in Mary Poppins. It's like that. But yeah, he's really into soccer right now. He did this thing where he loves looking up their cards and videos, and he comes up with fun facts that he finds on YouTube."
Sudeikis also shared that his kids have caught the music bug, and the three love to create music together.
"As I'm coming up the stairs, I can usually hear a keyboard, and I bought two karaoke setups — for me and [Will] Forte," he explained, "but now they've now figured out how to turn them on — and they're making up songs."
Ted Lasso Season 3 premiered on Wednesday on the Apple TV+ streaming service.