Jason Kelce's Super Bowl Baby Could Have The Most On-Theme Name
Jason Kelce is fully ready to name his baby-to-be after the Super Bowl LVII should his "very pregnant" wife give birth during the game.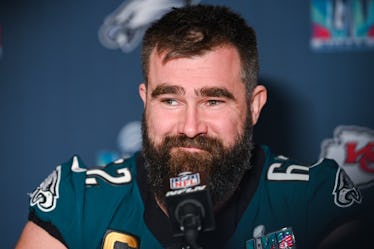 Anthony Behar - PA Images/PA Images/Getty Images
Fans and athletes alike are gearing up for Super Bowl LVII on Sunday, Feb. 12, when the Philadelphia Eagles face off against the Kansas City Chiefs. It's a high-pressure situation, but arguably no one is under as much pressure as the Kelce family.
After all, players Travis and Jason Kelce are on opposing teams, and will be facing off against each other in the most hotly anticipated football game of the year. But that's not all: Jason Kelce's wife, Kylie Kelce, is heavily pregnant, and could even go into labor around the events of the Super Bowl. And now, there might be a baby name on theme to commemorate it.
In an interview with People, Kylie spoke about feeling "very pregnant" heading into the Super Bowl. While she'll be in the stands to cheer on her husband Jason, she's also on high alert because she's due to give birth any moment.
And if she does end up going into labor while Jason is on the field, he is fully ready to mark the occasion with a unique baby name.
"We don't have a name, but my husband keeps making the joke that if she does come while we're out there that we'll name her Super, which is one of the most absurd things I've ever heard of in life," Kylie told People.
"We have talked about if she does come out there that we might consider making her initials S.B., or something related to the Super Bowl, just as sort of a tribute," she added.
Although Kylie hasn't shared her exact due date (because no due date is "exact"), she will be attending the game with not one but two OBGYNs in tow to be extra safe.
"They're both my OBs on a regular basis, but I didn't necessarily want one to be by themselves. All hands on deck," Kelce shared.
Jason previously spoke about his wife bringing an OBGYN to the game so she won't be left scrambling should labor start while he's on the field.
"Kylie's bringing her OB because she's going to be 38 weeks pregnant at the game," Jason shared on his New Heights with Jason and Travis Kelce podcast that he hosts with his brother. "That could be a super Kelce bowl. If she has a baby in the stadium, it's officially scripted."
Tune in to watch the Kelce family (and the Eagles and Chiefs) battle it out by turning on FOX or tuning into the FOX Sports App on Feb. 12, 2023. Super Bowl LVII kicks off at 6:30 p.m. ET.