Watch Nick Sirianni's Press Conference Get Crashed By His Kids
Following the Eagles' big win, Nick Sirianni took to the press table to answer questions from journalists with kids in tow.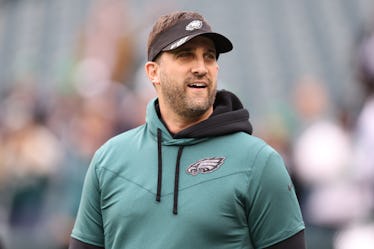 Tim Nwachukwu/Getty Images Sport/Getty Images
On Sunday, Jan. 29, the Philadelphia Eagles beat the San Francisco 49ers to win the NFC title and to clinch their appearance in Super Bowl LVII — where they will play against the Kansas City Chiefs in mid-February. The blowout victory (and it really was a blowout) was almost overshadowed, however, when head coach Nick Sirianni's post-game press conference was adorably crashed by his kids.
The win was a huge moment for Sirianni's career — getting his team to the championship after only his second full season as head coach — but it clearly was for his three kids, Jacob, Taylor, and Miles, who range in age from 8 years old to 3.
The videos are clear: His kids were not fazed by the attention or the fact that their dad was working. And it led to some adorably hilarious moments.
During one point of the interview, Sirianni's daughter, Taylor, looks like she's lip-syncing his answer to a journalist's question, using her hands and all. The football coach did his best to ignore his kids, pretending they weren't there, but the bored kids did what bored kids do.
The three kids had their conversation between them up there with their dad. In the brief moments after answering a question, while listening to another reporter's question, Sirianni tried to reel his kids in, whispering reminders for them.
And he tried all the get-your-kids-to-calm-down-without-losing-your-cool lines he could think of, including:
"Hey, no shh, shh."
"What are you guys doing?"
"Hey, you guys need to stop. Taylor."
"Stop it. Stop it. Look forward."
At one point, Sirianni told his kids passively that he regretted allowing them to sit with him during the interview. But even if he was slightly frustrated by his kids' behavior at the press table, he didn't let that dampen the fun for him or the kids.
Next for their dad will be a face-off with the Kansas City Chiefs. And, honestly, we're hoping to get another Sirianni kid press conference before the end of the season.
Tune into FOX or the FOX Sports App on Feb. 12, 2023 to watch Nick Sirianni coach the Philadelphia Eagles as they take on Patrick Mahomes and the Kansas City Chiefs in Super Bowl XLII at 6:30 p.m. ET.