Long Distance EV Travel Is About To Get Ridiculously Easy
A major upgrade to our EV infrastructure means more open roads to travel — and places to charge your vehicle.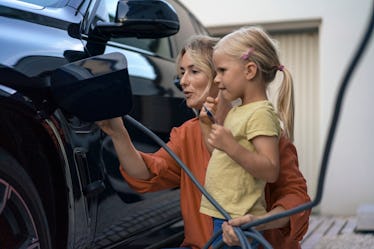 Westend61/Westend61/Getty Images
Big upgrades are coming for electric vehicle infrastructure across the U.S. and Canada — so much so that you might be able to plan your next vacation around them.
On May 16, Transportation Secretary Pete Buttigieg, along with Canadian Minister of Transport Omar Alghabra, unveiled plans for a new 7,500-mile EV corridor between Kalamazoo, Mich. and Quebec City, Quebec, connecting the existing 75,000 miles of EV corridor in the U.S. to Canada. The corridor will feature DC charging stations every 50 miles.
The expansion in EV charging capabilities and the connection to our neighbor to the north is expected to strengthen problematic supply chains as well as increase and create jobs while moving us closer to achieving U.S. and Canadian climate goals and enhancing trade and international commerce. The corridor closely aligns with U.S. hopes that 50% of new vehicles will be EVs by 2030 — a goal that the Biden Administration is encouraging by offering significant tax credits on some EV purchases.
"The U.S. and Canada have long enjoyed a productive partnership on transportation issues and in that spirit we are proud to announce the first-ever U.S.-Canada EV Corridor," Secretary Buttigieg told members of the press. "With historic investments in EV infrastructure from the Biden-Harris Administration and the Canadian government, we are creating a new generation of good-paying manufacturing jobs, making it possible for drivers everywhere to reap the benefits and savings of these vehicles while helping us fight climate change."
Minister Alghabra agreed: "This first cross-border alternative fuel corridor will help drivers to travel across the border and charge or refuel worry-free. It contributes to bringing us another step closer to making our air cleaner while helping people save money on traditional fuels."
And for EV owners looking to do more domestic travel, LNG Electric, in partnership with MD7 Design, just announced its plan to install new Level 2 and Direct Current Fast Charging (DCFC) stations at 13,000 hotels nationwide. The company hopes to relieve range anxiety — or the fear that batteries will die before the next charging station — in EV owners by covering a full 10-15% of the hospitality market in the U.S. Minority-owned LNG also plans to include Level 3 charging stations to help meet consumer demand for faster charging.
"MD7 is the best at installing connected infrastructure like EV charging stations," said Taylor Weaver, LNG Electric CEO. "Their willingness to help us even the playing field and provide charging stations for people at every income level shows just how committed they are to our mission. We want to power the EV grid, no matter where you are."
Installations will begin this month and continue for five to six years. The first installations will be at Marriott and Hilton Hotels in Ohio, Illinois, and Florida.
"We're excited to partner with LNG Electric to provide first-class EV charging technology to apartment complexes and hotels, furthering our commitment to environmental sustainability," said MD7 President Michael Fraunces. "We support their mission to provide affordable EV grid access to more people than ever before, and we can't wait for what's next."