My Dad's Your Biggest Fan
Harrison Ford Knows Everyone's Dad Loves Him, And He's Hilariously Grumpy About It
"Do you know how many people come up to me and tell me that their dad is my biggest fan?"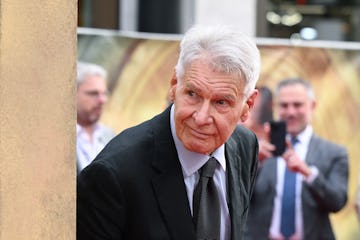 Karwai Tang/WireImage/Getty Images
Harrison Ford has been on the interview circuit — much to his probable chagrin — as the latest Indiana Jones movie hits theaters. But the lovable grump is truly never boring in his interviews, and in a recent sit-down, Ford spoke his mind in the most Ford way after an interviewer told him that his dad was a big fan.
An interviewer from KISS is the Beat, a radio station based in the UK, sat down with Ford for a quick interview ahead of the release of his latest movie. A portion of the interview was shared to TikTok, and everyone in the comment section talked about how grumpy the 80-year-old action star is because the interviewer told him how much his dad loves his work.
"My dad is ..." the interviewer said before adding, "I mean, we're big fans, but my dad is a huge Indiana Jones fan." And before he could say anything else, Ford jumped in.
"Do you know how many people come up to me and tell me that their dad is my biggest fan?" he said with zero expression on his face. "... So, what are you? Just a conduit of information about your father?" he asks. "How much do you like me?" He asks again, jokingly.
The interviewer jumped back in, noting that his dad had written him a list of about 15 questions to ask the veteran actor, saying, "He actually sent me some questions to ask you, if that's all right." Though the interviewer narrowed the questions down to two, Ford was all for it, encouraging him to ask away.
"What's the smelliest place you've ever been throughout your filming career?" the interviewer asked.
Looking off to the side real quick, Ford quips, "Now you're talking," and jumps right into his answer.
"Man, you walk into a Venice sewer full of rat sh*t, you know… you know something new," he says with a laugh. "You maybe never imagined, but, you know, you get comfortable pretty quick." The video went viral and ended there without the second question, but there was a follow-up video, and we heard the second question.
"If you could go anywhere in time, where would you go?" the interviewer asks.
And Ford's answer set the room off into a fit of giggles because it was just one word, perfect for the endearing grump that he is: "Home."
Ford has always been known for being grumpy during interviews, but it's never in a mean or dismissive way, and it adds to his charm, and some people felt it was just a byproduct of social anxiety. In an interview earlier this year, Ford revealed the reason he seems so grumpy during interviews isn't because he's got anxiety.
"No. I don't have a social anxiety disorder," he said in an appearance on Late Night With Conan O'Brien. "I have an abhorrence of boring situations."
Indiana Jones and the Dial of Destiny opens in theaters on June 30.