We Should All Take Harrison Ford's Latest Advice About Getting Older
Is it the years? Or does the mileage not matter either?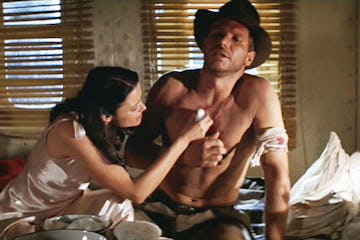 CBS Photo Archive/CBS/Getty Images
Harrison Ford's impressive, decades-long career is one populated by iconic roles, from to Star Wars to Indiana Jones and many more in between. Now, at 80 years old, when most people would have retired a decade ago or might struggle with coming to terms with aging, Ford has a very different and refreshing perspective on the whole thing.
Ford recently sat down with Chris Wallace on his show Who's Talking to Chris Wallace? where the two spoke about his final role in the Indiana Jones series and what he had hoped for his character.
In The Dial of Destiny — out everywhere on June 30 — Indiana Jones confronts aging in a brilliantly tender film. And, Ford had an ending in mind for the character he's played since the early '80s when he was half the age he is now. He wanted the new film to "confront the question of age straight-on, not to hide my age, but to take advantage of it in the telling of the story."
He explained: "Six years ago, I thought maybe we ought to take a shot at making another one. And I wanted it to be about age because I think that rounds out the story that we've told, and we've brought it to the right place."
As for retiring?
"I probably enjoy making movies more now than I ever did," he admitted to Wallace. "I don't want to be young again. I was young, and now I enjoy being old. I love to work. I love to feel useful."
In Raiders of the Lost Ark, Indiana Jones famously said, "It's not the years. It's the mileage." But, what Ford is saying here is maybe the mileage doesn't matter as much as you think it does. Aging is a privilege; doing it the way you want is key to living a full and meaningful life.
Ford has always been hardworking and open about how much he loves to work. Earlier this month, during a sit-down chat with Esquire, the father of five admitted that his drive to work sometimes skewed his work-life balance for the worse.
"I can tell you this: If I'd been less successful, I'd probably be a better parent," he admitted. "I accept my flaws and my failures—I don't accept them, I own them," Ford admitted. "And certainly, the more constant gardener is the better parent, and I've been out of town, up my own ass, for most of my life."
Indiana Jones and the Dial of Destiny opens in theaters on June 30.