Harrison Ford Thanks Another Famous '80s Cool Dad For Boosting His Career
"I became the second choice, and I'm very grateful for Tom."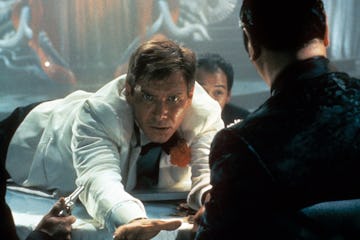 Paramount Pictures/Moviepix/Getty Images
Harrison Ford has had an iconic career, and at 80 years old, he's not showing any signs of slowing down. In a recent interview, Ford admitted that he owes one career-defining role to a fellow actor who boosted his career at just the the right time.
Ford recently appeared at the Taormina Film Festival in Italy to promote his upcoming movie Indiana Jones and the Dial of Destiny, and during a sit down with Deadline, Ford said he was only cast as Indiana Jones because Tom Selleck was forced to turn down the role.
"How I got the job? Tom Selleck had the job, but he also incurred an obligation to do a television series, and he was unable to get out of that contract," Ford said during the discussion when they asked about how he nabbed the role back in the 80s. "I became the second choice, and I'm very grateful for Tom. Thank you, Tom, man. If you're listening, thank you again."
As many Indy fans probably know, People reported that Selleck was forced to drop out of the first Indiana Jones movie after committing to a Magnum P.I. movie, based on the popular TV '80s action series of the same name. And, at the time, George Lucas, who served as an executive producer for the Indiana Jones movies, didn't think Ford was the best fit for the archeologist.
"I doubted he'd go for a three-picture deal - he didn't want to on Star Wars," Lucas told the outlet in the oral history, per People. "And we had three pictures. Steven said to try anyway. I went to Harrison, and he read the script and said, 'Yeah, I'll do a three-picture deal. I'd love to.' " Today, You can still see footage of Tom Selleck's screentest as Indiana Jones, complete with the hat, and the signature Selleck mustache.
Fans of the franchise know that the role was initially earmarked for Selleck — who would have been amazing — and he was a big rising star in the early '80s. But, this is the first time Ford has acknowledged and thanked Selleck for changing the trajectory of his career.
Last week, Ford sat down with Chris Wallace to talk about his final role in the Indiana Jones series and why he was glad to be able to play the same character one last time.
"Six years ago, I thought maybe we ought to take a shot at making another one," Ford said. "And I wanted it to be about age because I think that rounds out the story that we've told, and we've brought it to the right place."
Indiana Jones and the Dial of Destiny hits theaters Friday, June 30, 2023.