This Map Shows Each State's Most Popular Halloween Costume
Want to join the crowd or stand out with something unique?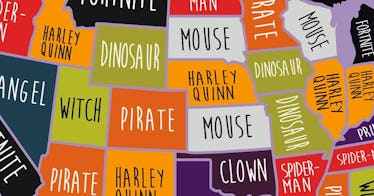 All Home Connections
We've only got a few weeks left before trick-or-treating is in full force. And if you're still scrambling to find a costume for yourself or your kids, we've got some help. A new map lists the most popular Halloween costumes per state — which is either great if you want to be an original or great if you're just looking for something simple that will be ultra popular. Here are the details.
All Home Connections, an authorized AT&T retailer, wanted to know what the most popular Halloween costumes would be this year. So, using Google's top Halloween costume list from 2020 and other trending costumes, the team analyzed Google Trends' current data and projected the most popular costumes per state.
After collecting all the data, sorting through it, and organizing the information, All Home Connections put it into an easy-to-read map. And we've got a pretty clear indication of what each state's most popular costume is going to be – and the overall most popular costumes, too.
"In 2021, Americans are getting creative with their costumes—prepare to see a few doctors, blockbuster movie characters, and even mythical animals roaming the streets," the site explains. "This year, we had a larger variety of costumes than in 2020, with 20 completely different costumes searched across the nation compared to last year's 12."
This year, the most popular overall costume goes to witches, winning the most popular in 14 states, including Alabama, Pennsylvania, and Louisiana. After that were dinosaurs, the most searched in eight states, including New York, Maine, and Colorado.
Character costumes were also some of the most searched this year too. This includes the Powerpuff Girls, Wonder Woman, Black Widow, and Mickey Mouse.
Some typical Halloween costumes were favorites this year, too. This includes vampires, angels and devils, ninjas, and zombies. But there were some interesting ones, too. For example, rabbit was the most searched in four states, including Florida, Virginia, Arizona, and Michigan.
Another head-scratcher is New Mexico's most searched costume, Clueless. It's not clear if they were clueless on what to be for Halloween or if it's referencing the 1995 movie, Clueless.
All Home Connections says that approximately 140 million Americans will celebrate Halloween this year. And of those, many end up spending more than $90 per person on their costumes, so if you're going to fork out the money, you might as well go as something unique.