Grimes Just Renamed Her Daughter — And Her Name Is As Unique As You'd Expect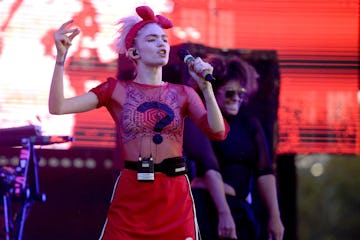 Scott Dudelson/WireImage/Getty Images
Grimes and Elon Musk are known for the out-of-this-world, unique baby names they've given their two children. The previously romantic couple co-parent their two kids, and recently Grimes shared that she and Musk changed the name of their second baby.
When Grimes announced she and Musk had quietly had their second child together (via surrogate), people knew the name would be interesting. Their oldest child, now 2 years old, was named X Æ A-XII. So when Grimes shared that her daughter's name was Exa Dark Sideræl, it wasn't a surprise that the name was unique or that it held a special meaning to Grimes.
"Exa is a reference to the supercomputing term exaFLOPS (the ability to perform one quintillion floating-point operations per second)," the Vanity Fair reporter who interviewed Grimes explained. Dark is "the unknown. People fear it but truly it's the absence of photons. Dark matter is the beautiful mystery of our universe," Grimes added.
At the time, Grimes also shared that Exa is also called "Y" for short, which people assumed was to go with "X," the nickname they gave to their oldest child, X Æ A-XII.
However, recently, Grimes hinted that she actually changed her daughter's name to "Y."
The proud mama shared a photo of herself and her daughter dressed the same in yellow-green hair and a red jumper. A fan responded to the photo, writing, "omg baby sailor mars hiiii," which is a nod to the other nickname she and Musk use for their daughter, which prompted Grimes to reply.
"She's Y now, or 'Why?' or just '?' (But the government won't recognize that)," she wrote. "The child's name is meant to represent "curiosity, the eternal question, .. and such."
This isn't the first time Grimes and Musk changed baby names — they did something similar for their oldest after some legal troubles.
The two initially named their son X Æ A-12 Musk; however, in the state of California, only letters from the 26 letters of the English alphabet, and no characters or numbers, can be on a birth certificate. In response, Grimes shared that she had to change her son's name slightly, changing the A-12 into A-XII since Roman numerals were allowed, but she and Musk were going to continue to call him "X."