Grimes Confirms Secret Baby with Elon Musk — And, Yes, Her Name Is Unique as Hell
They call her "Y" for short.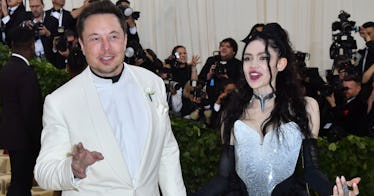 ANGELA WEISS/AFP via Getty Images
Surprise! Elon Musk and his on-again-off-again partner Grimes have welcomed another baby into the world. The two kept the baby a surprise and like their first babe, their newest has a unique name with a special meaning behind it, too.
It doesn't sound like the two had any intentions of making it public knowledge that they welcomed another baby into the world. The revelation came when a journalist for Vanity Fair, who was interviewing Grimes for the cover story, heard a baby crying in her home despite knowing her older child was out with his dad.
Grimes and Elon welcomed a little girl who joins their son X Æ A-Xii (they call him X for short), in December via a surrogate. And she, too, has a very unique baby name: Exa Dark Sideræl, but they call her Y for short.
She explained that Exa is inspired by the supercomputing term exaFLOPS, which means "the ability to perform one quintillion floating-point operations per second." Her second name, Dark, is inspired by "the unknown," and a nod to dark matter. Sideræl, pronounced sigh-deer-ee-el is a "more elven spelling" of sidereal, which Grimes says is "the true time of the universe, star time, deep space-time, not our relative earth time."
We would expect nothing less from her than a baby name that's truly unique. And while the meanings behind the unique monikers might not make sense to us, it's clear they hold deep meaning to her and Elon.
Grimes also spoke about her unique relationship with Elon, particularly because people thought they had broken up a while ago. But it turns out, they're just doing their own thing. "I would probably refer to him as my boyfriend, but we're very fluid," she explains. "We live in separate houses. We're best friends. We see each other all the time…. We just have our own thing going on, and I don't expect other people to understand it."
She added, "This is the best it's ever been…. We just need to be free," and also reveals she and Musk intend to have more children together. "We've always wanted at least three or four."
This article was originally published on