The Secret To Goldie Hawn's 40-Year-Relationship? Do Your Own Thing
This longtime Hollywood couple of Goldie Hawn and Kurt Russell prove you don't need marriage to be committed — you just have to make the relationship you want.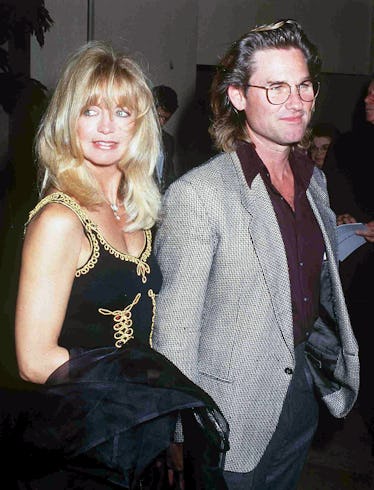 Kypros/Hulton Archive/Getty Images
Goldie Hawn and Kurt Russell are one of the rare Hollywood couples who have managed to stay together and in love through several decades. The couple first got together in 1983, and are celebrating 40 years together. But unlike the other Hollywood couples, Hawn and Russell have never officially, legally gotten married. And for Hawn, that was never on the table for these two, and it was perfect for them — but people have questions about why, even after all this time, they never made it "official."
Hawn recently sat down with CNN's Chris Wallace, for his show Who's Talking to Chris Wallace?, where she opened up about her longtime relationship with fellow actor Russell. Specifically, Wallace wanted to know why the two never got married despite their four-decade-long relationship. And she chose to answer the question with another very valid question.
"Why aren't the two of you married?" Wallace asked Hawn.
She answered, "Why should we be? Isn't that a better question?" Since Wallace was persistent in wanting to know the reason, asking Hawn the question again, she answered, saying their decision not to get married isn't really rooted in the fact they don't take their relationships seriously.
"When it doesn't work out, it ends up to be big business," the actress, who has been married twice and divorced twice before, said.
"It's always ugly," Hawn continued. "Somebody actually has to take a look and say, 'How many divorces actually are fun? How many divorces actually don't cost money? How many divorces actually make you hate the person more than you did before? How many divorces have hurt children?' "
Wallace seemed surprised by her answer, given how long she and Russel have now been together. " "But [you and Russell have] been together 40 years; you're not going to get divorced," he said.
"How did you know that then?" Hawn replied that choosing the relationship was more impactful than a marriage certificate for her. "I like the idea that I can wake up in the morning and make decisions every day if I want to be here."
"... Relationships are hard," Hawn shared. "They're not always easy. There's all kinds of hurdles we go through. There's things that we believe in, things we don't believe in, we agree on."
"So I think ultimately staying independent with independent thinking is important, so you can hold on to yourself, and you can actually have that feeling," she concluded.
Their decision not to get officially married may not be the norm, but it worked well for them and proved that not all committed relationships have to look the same for every couple. They were still very committed to each other and to their families and were able to build the life they wanted together while choosing each other every day, too.
Hawn and Russell join several other Hollywood couples whose relationships have stood the test of time. Recently, Kyra Sedgwick compared her 30-year relationship with Kevin Bacon to "roast chicken" since, like the chicken, Bacon is "always good and reliable." And that stable reliability is what carries them through the rough patches and times that come with any long-term relationship.
And that sentiment was echoed by Tom Hanks, who has been married to Rita Wilson for 35 years and counting.
"I won't deny that [fate] was part of us finding each other, but our relationship isn't magic the way it's shown in movies," Hanks previously said. "In real life, our connection is as concrete as me sitting here. We both know that no matter what, we'll be with each other, and we'll get through it."