Kyra Sedgwick's "Roast Chicken" Rule For Marriage Is Unbeatable
Kyra Sedgwick shares why she believes marriage should be like roast chicken and how that's worked for her 35-year marriage.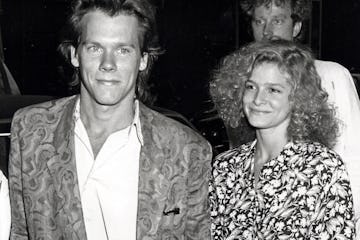 Ron Galella/Ron Galella Collection/Getty Images
Actress Kyra Sedgwick and her husband, Kevin Bacon, are a rare Hollywood couple: they've managed to stay married (and happily so) for nearly 35 years. Over that time, both Sedgwick and Bacon have shared some advice on staying together, and the latest from Sedgwick about how marriage is like a roast chicken is another gold(en, juicy) piece of advice.
Given how long Sedgwick and Bacon have been married — a lifetime in even regular terms — fans have always been curious about any relationship advice they have to give. Both Sedgwick and Bacon have shared some tidbits here, some serious, some not, and some very unconventional.
Speaking with E! News about her long-lasting relationship with fellow actor Bacon, Sedgwick compared their love to a chicken. "Sometimes there's sparks," Sedgwick said, "sometimes there's just chicken."
Yeah, she called her marriage "chicken," which sounds like a negative thing. However, Sedgwick makes complete sense when she explains further. "Sometimes it's romantic, and it's like, 'Oh my god.' And sometimes it's chicken." She added that relationships that are like "roast chicken" are "always good and reliable." In other words, in the best of times, there's sparks — but most of the time, the relationship is solid, reliable, delicious (?) and dependable, making it a solid marriage worth experiencing again and again.
We've never heard anyone put it that way, but it makes sense, and she's not wrong. Knowing someone is there for you, and always will be in however you need — even if its in the simplest of ways — it is a true partnership. And the advice follows similar tidbits these two have shared over the past few years about making love last.
Sedgwick previously opened up about her marriage with Bacon and the pressure she feels to keep her "long and happy marriage" for others. During that chat, Sedgwick shared the simple but effective secret.
"But the truth is, the secret to a happy marriage is not getting a divorce," she admitted. "I just heard that now I'm going to steal it. Someone said it. I can't remember who."
In all seriousness, the advice might seem like she's making light of a big feat like being married for nearly four decades, but she's not wrong. Bacon previously shared his own simple piece of marriage advice — that you shouldn't take advice from celebrities — but the lighthearted jokes do contain serious nuggets of wisdom.