EV Transaction Prices Are Down 14% Compared To Last Year — Here's Why
The average transaction price for an electric vehicle is way down.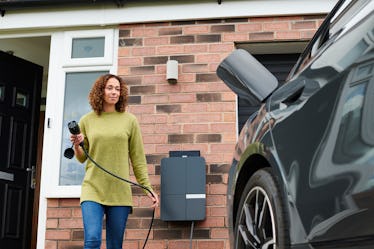 sturti/E+/Getty Images
If you, like half of all Americans (according to a recent survey), are interested in making the switch to an electric vehicle, take note: According to Kelley Blue Book, the average cost of an electric vehicle (EV) was down 14% during the month of May compared to the same time period in 2022. The average transaction price for a new EV in May was just over $55,000. In contrast, in May 2022, a new EV cost $9,370 more, for a total of $64,370.
According to data compiled for the EY Mobility Consumer Index (MCI), 48% of consumers intend to make an EV purchase within the next two years. This surge in demand might be thanks in part to a few generous tax credits enacted by the Biden Administration as part of the Inflation Reduction Act last year — some new and used EV purchases may qualify consumers for a tax credit worth up to $7,500.
And elsewhere, price cuts on EVs have also taken the heat off of some EV costs: Tesla's Model 3 sedan now qualifies for the full federal tax credit when it previously only qualified for partial credit. That followed several rounds of price cuts on certain Tesla Models, including the Model Y. Similarly, Ford Motor cut prices of its electric Mustang Mach-E, which also qualified for a partial federal tax credit, by up to $4,000. And Ford has plans to adopt no-haggle pricing at dealerships on its EVs in 2024.
Meanwhile, the average cost of buying a new gas-powered car is currently 25% higher than transactions made pre-pandemic. It's important to note that doesn't necessarily mean people are paying more for gas cars today, though. The average transaction price, though 25% higher than it was three years ago, was generally less than the manufacturer's suggested retail price (MSRP) because of dealer incentives — basically, manufacturer-supplied credits allowed dealers to offer lower pricing options on new cars.
The increase in demand for EVs is also matching an increase in investment in major EV infrastructure. Last month, Transportation Secretary Pete Buttigieg announced some major EV infrastructure overhauls, including a 7,500-mile EV corridor between Michigan and Quebec. The new corridor will open the existing 75,000 miles of EV corridor in the U.S. to our neighbors in the north.
"The U.S. and Canada have long enjoyed a productive partnership on transportation issues, and in that spirit, we are proud to announce the first-ever U.S.-Canada EV Corridor," Secretary Buttigieg said. "With historic investments in EV infrastructure from the Biden-Harris Administration and the Canadian government, we are creating a new generation of good-paying manufacturing jobs, making it possible for drivers everywhere to reap the benefits and savings of these vehicles while helping us fight climate change."
For domestic travelers, LNG Electric, working with MD7 Design, announced a plan to add Level 2 and Direct Current Fast Charging stations at 13,000 hotels in the U.S. — covering up to 15% of the American hospitality market and alleviating stress for hoards of travelers.