Ford, Tesla EVs Will Be Much Cheaper Due To Two Major Rule Changes
Big news if you're in the market for a new electric vehicle.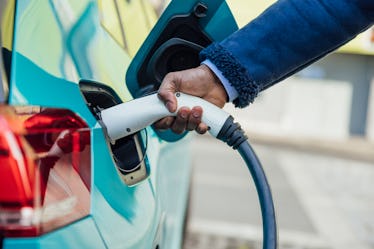 SolStock/E+/Getty Images
Both Ford and Tesla brands have introduced new changes that will make their EVs cheaper and easier to purchase. Here's what you need to know.
The first change comes from Ford's CEO, Jim Farley, and Ford's chief advanced product development and technology officer, Doug Field, who announced the company's plans to change how they sell EVs. Starting soon, folks looking to buy an EV from Ford won't have to haggle.
According to US News, Ford's no-haggle pricing will begin in January 2024. EVs from Ford can still be purchased through a Ford dealership and online. Dealerships will post pricing on Ford's website, and customers will be able to see transparent prices, and all fees and add-ons will be clearly marked.
This new pricing strategy is aimed at making purchasing easier for those looking to switch to an EV, and this move is meant to build trust.
"These better experiences make customers more likely to build a relationship and choose the same dealer again," Field said, according to US News.
Ford dealerships that opted into the company's Model E program — which stipulates dealerships need to make some upgrades to their showrooms, including installing a level 2 charging station, two high-powered DC fast chargers, and at least one DC fast charger for the public to use — will be able to see the Ford EVs in their showrooms.
US News notes that approximately 1,920 of Ford's 2,900 dealerships have been signed up to sell EVs and have committed to making the necessary changes to enroll in Ford's Model E program.
Tesla will also be making its EVs more affordable for people looking to switch from gas vehicles. According to Ars Technica, all versions of the popular Tesla Model 3 sedan will now qualify for the full federal tax credits, a savings of $7,500. Previously, the Model 3 Rear-Wheel Drive (RWD) version only qualified for half the amount of the EV tax credit, or $3,500.
Currently, there's been no reason communicated for what change was made at Tesla to allow for the full tax credit, but the federal government did confirm that the Model 3 qualifies for the full credit on its EV tax credit website.
To qualify for the full tax credit, at least 50% of the components an EV's batteries must be sourced in North America, and 40% of the critical minerals necessary for the construction of those batteries must be mined and refined in North America.
To see what other EVs currently qualify for the federal tax credit, full or partial, check out fueleconomy.gov.