Dwyane Wade On The One Thing Trans Kids Need Most From Their Parents
Dwyane Wade, retired Miami Heat superstar and strong supporter of his kids, used his attendance at the Met Gala to speak up for trans rights.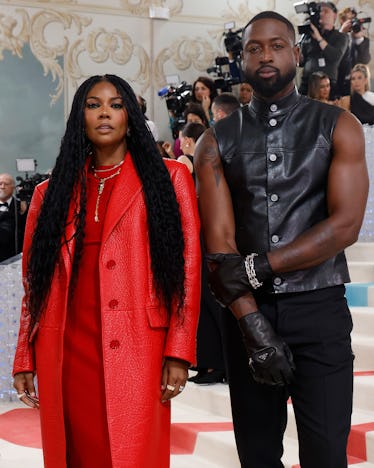 Taylor Hill/Getty Images Entertainment/Getty Images
Dwyane Wade, retired Miami Heat superstar, NBA All-Timer, and all-around outspoken supporter of his kids, used his attendance at the 2023 Met Gala to speak up for trans rights — and speak out against recent Florida policy that targets LGBTQ+ youth.
Over the past few years, legislative attacks on LGBTQ+ youth in Florida — like the recently expanded "Don't Say Gay" bill that bans students and teachers in public school settings from discussing sexual orientation and gender identity — have ramped up under the leadership of current Governor Ron DeSantis.
And that's not all. Alongside a number of bills that would restrict the rights of LGBTQ+ youth and adults in the state, in March, a proposed law called the "Protection of Children" Act was introduced in the Florida Senate. That bill would restrict Pride celebrations, drag performances, and fine and/or revoke food and liquor licenses from venues that are accused of allowing children to view these performances, which the bill calls "lewd." That bill is in the final stages of approval in the Senate but has yet to be made law.
In addition, a second bill, called Senate Bill 254, would grant the state temporary emergency jurisdiction over a child under the age of 18 if "the child has been subjected to or is threatened with being subjected to sex-reassignment prescriptions or procedures."
Wade, whose 15-year-old daughter, Zaya, came out as transgender in 2020, recently spoke about his decision to move his family out of Miami, relocating to California, saying that Florida was no longer safe for his family. At the Met Gala, he was asked what his message would be to DeSantis, and Wade used the opportunity to hit back at the legislation.
"I don't know him. But I do know men lie, women lie, but numbers don't," he said in an interview clip posted by Variety. "I do know that when our children feel accepted ... from their parents, from the world, it lowers the death rate."
He continued: "Suicide is high in the trans community. It's high in youth, and so I'm going to step on the side of acceptance, and I'm not going to even go on the other side. I'm going to focus on acceptance. Let's make sure our kids have an opportunity to live this life that we all get to live."
And Wade is right — numbers don't lie. According to a 2022 report from the advocacy group The Trevor Project, which compiled data from close to 34,000 LGBTQ+ people aged 13 to 24, 45% of LGBTQ+ youth had considered suicide in the previous year, and nearly 20% of transgender and nonbinary youth had attempted suicide. The survey also crucially found that youth were 50% less likely to attempt suicide if they felt they had the support of their families compared to those who did not feel supported, highlighting the importance of parental advocacy.
At the 54th NAACP Image Awards, Wade and his wife, Gabrielle Union, were honored with the President's Award and called for better support for the Black LGBTQ+ community.
"As two people willing to use our microphones for what we believe and what other families are going through, I'm intentional when I use my platform," Wade said. "I recognize what I have been given, and it is my job to uplift the voices of others and share my access and resources."