Florida Just Expanded Its "Don't Say Gay" Bill To Include All K-12 Students
"Can people even have those rainbow stickers?"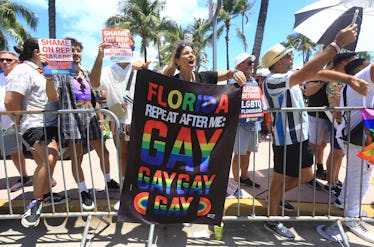 Sean Drakes/Getty Images Entertainment/Getty Images
The Florida Board of Education voted Wednesday to expand the controversial Parental Rights in Education law — commonly known as the Don't Say Gay law — beyond its original iteration. The law, which was passed by Governor Ron DeSantis in March 2022, bans instruction related to gender identity or sexual orientation, and originally pertained only to students in kindergarten through third grade. With the expansion, the ban now includes all K-12 students in Florida public schools.
According to the newly approved amendment to the existing law, "This amendment prohibits classroom instruction to students in pre-kindergarten through Grade 3 on sexual orientation or gender identity. For Grades 4 through 12, instruction on sexual orientation or gender identity is prohibited unless such instruction is either expressly required by state academic standards ... or is part of a reproductive health course or health lesson for which a student's parent has the option to have his or her student not attend."
The original bill garnered national criticism as LGBTQ+ advocates decried it as discriminatory, and noted it will harm groups already struggling with mental health and bullying in schools. Others pointed out that the law is vague and does not set clear policies.
"There's no clear distinction between discussion or instruction," said one attendee at a public meeting held before the amendment was passed. "Can people even have those rainbow stickers? Can we talk about Stonewall even happening? We don't know exactly where the line is."
As with the original version of the law, there is concern that school officials could be allowed by state law to use the legislation to punish children in LGBTQ+ families or teachers in same-sex or gender-nonconforming relationships. There is also concern about the law now applying to older students — that LGBTQ+ teens and tweens could be subject to even more harassment, not only by students but by administrators as well, and it will be sanctioned by law and allowed.
DeSantis has not been shy about his so-called "anti-woke" stances. As defined by his general counsel, woke is the "belief there are systemic injustices in American society and the need to address them." The "Don't Say Gay" bill is just one part of his agenda.
DeSantis has also banned instruction of race-related content, including Advanced Placement African American History courses in Florida high schools, and encouraged colleges in the state to adopt the same "anti-woke" platform by rejecting critical race theory and intersectionality content.
Teens and tweens who are struggling with questions about identity, orientation, or sexual urges in general (you'd be hard-pressed to find a teen who at some point does not) will be left to figure it out on their own. The burden of helping kids figure out who they are or answering their questions will have to shift to parents or adults outside of school — something many experts argue is downright dangerous for many kids who might not be in safe or supportive home environments.
The amendment comes at a time when the rights of marginalized groups are being attacked across the nation. Florida is at the vanguard of the attack with 22 anti-LGBTQ+ bills moving through the state legislation so far this year, the most in any state in the country. Most of these focus on youth, but one bill in Missouri that became law now functionally bans transgender health care for adults.