Dwyane Wade Says Daughter Zaya "Made Me A Better Human" At NAACP Image Awards
Dwyane Wade and Gabrielle Union gave a rousing speech at the NAACP Image awards.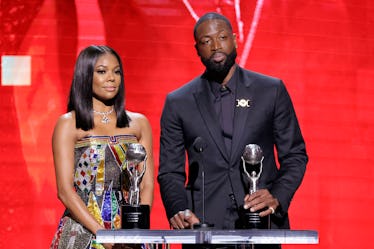 Amy Sussman/Getty Images Entertainment/Getty Images
Dwyane Wade is many things: former NBA all-star, proud dad, and fierce advocate for his 15-year-old daughter, Zaya. Along with his wife, Gabrielle Union-Wade, the two recently used their platform at the NAACP Image Awards to push for all of us to do better for the Black LGBTQ+ community in a passionate speech.
On Feb. 25, Wade and Union-Wade were honored with the President's Award at the 54th NAACP Image Awards, which recognizes special achievement and distinguished public service. Accepting their award, the couple delivered a message for their daughter, 15-year-old Zaya, who came out as transgender in 2020. Dwyane has been a fierce supporter of his daughter and has publicly spoken about how his parenting has changed as a result of his support for her.
"I want to take this moment to publicly speak to our daughter, Zaya. Zaya, as your father, all I've wanted to do was get it right," Wade said, standing at the podium with Union-Wade. "I've sat back and watched how gracefully you've taken on the public scrutiny. And even though it's not easy, I watched you walk out of the house every morning as yourself."
He continued, "I admire how you've handled the ignorance in our world...that you face every day. To say that your village is proud of you is an understatement. Thank you for showing me that there's more than just one way to communicate effectively."
In his speech, Wade praised Zaya for teaching him that communication is more than just talking and that he also needs to communicate with his "two ears and my two eyes." Wade continued, "My role is to be a facilitator to your hopes, your wishes, your dreams. Zaya, you've made me a better human just simply by being who you were born to be: our baby girl, Zaya Wade."
Wade's speech and Union-Wade's that followed also focused on the larger conversation calling for better support for the Black LGBTQ+ community.
"We stand up here today as two people who have worked tirelessly to have resources and access," Wade told the crowd. "As two people willing to use our microphones for what we believe and what other families are going through. I'm intentional when I use my platform. I recognize what I have been given, and it is my job to uplift the voices of others and share my access and resources."
For the full speech, including Union-Wade's words, read the transcript at the Los Angeles Times or watch on YouTube.