New Disney Parks Meal Plan Could Actually Help Park Goers Save Money
An encouraging development for parents hoping to plan a trip to take the kids to Disney Park.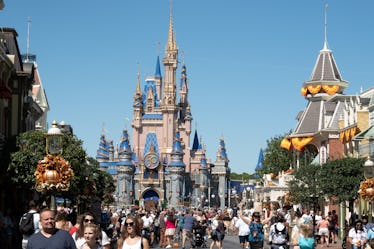 BRYAN R. SMITH/AFP/Getty Images
There is an ecnouraging development for parents hoping to plan a trip to take the kids to Disney World. The parks — both Disney World and Disney Land — have become increasingly expensive over the past few years, as prices have been hiked on tickets, attractions, and special hotels. But Disney just announced a new plan to help families save money. Here's what you need to know.
According to a Disney Parks Blog update, Disney has announced its Disney Dining Promo Card, a meal plan that will replace the Disney Dining Plan that was put on pause in early 2020. The new card will give guests who booked a "non-discounted" 5-night, 4-day ticket and room package at select Disney Resort hotels $750 to use toward food purchases.
"Use your digital Disney Dining Promo Card to purchase meals, snacks, treats, and beverages at select participating dining locations across Walt Disney World Resort," the company explains on its website. "Enjoy a delicious bite on the go from quick-service venues, food carts, and more. Or sit down to a leisurely dinner at a table-service restaurant."
But the amount of money on the promo card depends on where you stay. For example, if you're staying at a Value Resort like Disney's All-Star Reports, you will receive cards valued up to $50 per night.
For Moderate Resorts like Disney's Caribbean Beach Resort, guests will receive cards up to $100 per night.
However, for Deluxe Resorts like Disney's Contemporary Resort, guests will receive up to $150 per night stay promo cards. The promo card will be emailed to guests after checking into the hotel.
Of course, with many Disney deals or perks, there are some details to pay attention to participate in the promo card. For example, an offer is available "most nights" for guests visiting between July 1 to July 10 and between August 1 to September 14, and only one card is offered per reservation.
The new money-saving card comes following a price hike in December, which included a 12% price jump at Disney's Hollywood Studio and Magic Kingdom, plus an increase in multi-day ticket prices.
For more details, check out Disney Parks Blog detailing all the perks and restrictions.