Nobody Who Wants to Go to Disneyland Can Afford It
The most magical place on Earth is too expensive for its most loyal fans.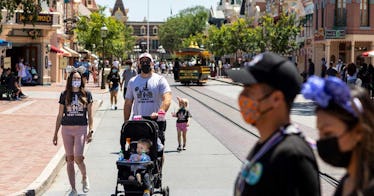 GETTY
The Disney parks are a family-friendly, family-favorite vacation destination across the United States. But, per a poll done by Insider, the people who actually want to go to Disney the most are the least likely to be able to afford it.
Here's the deal: Disney vacations, like everything it seems, have become way more expensive over time. But the people who want to go to Disney the most (middle-class people and families) haven't gotten richer alongside them.
In fact, people who make less than $75,000 per year are self-reported to be the most interested in going to Disney, but those people definitely don't make enough money to go to Disney, considering how per the website's own estimates, it would take about three years of saving $200 a month to save for the cheapest version of a Disney vacation for a family of four.
Of nearly 1,100 respondents, those who made between $50,000 and $75,000 dollars a year were the most likely to report wanting to go to Disney, and those who earn less than that were the second most likely to report wanting to go to the most magical place on Earth. Meanwhile, wealthier people, firmly upper-middle-class earners and families were far, far less likely to say they would want to go to Disney.
That's a problem — considering a vacation of four to Disney World can cost thousands of dollars. Thousands of dollars for a family of four earning less than, or just barely, six figures is not a cheap vacation, and in fact, those results were echoed in Insider's survey. According to them, 32 percent of people with kids said they'd like to go to Disney, but just can't afford it.
And no wonder. With tickets that cost hundreds of dollars, hotel stays that are steep and expensive, flights, and the costs of fast passes and foods and snacks at the park, it's really just not an affordable vacation.