Disney Just Made Four Major Changes That Could Transform Your Next Visit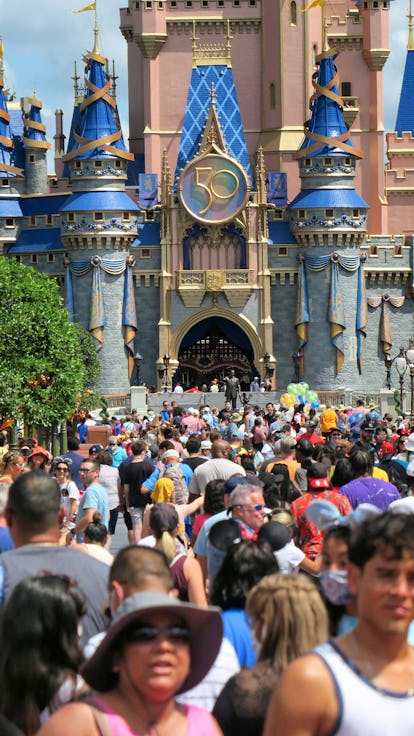 Orlando Sentinel/Tribune News Service/Getty Images
Disney is tinkering with magic again, and two upcoming changes that will transform your next park visit will make Disney fans very happy. If you're in the planning phase of your next Disney vacation or you've been saving up to go, here's what you need to know.
The company announced that as they "continue to listen to your feedback," they're making some updates to policy "to improve the guest experience."
"These updates will make planning your future Walt Disney World visits simpler and easier, so you can further enjoy all we have to offer and make more memories," the company said in a statement.
1. Disney will get rid of theme park reservations for date-based tickets.
One of the biggest perks coming soon for parents and Disney fans alike is the removal of theme park reservations for those with date-based tickets. This means if you bought tickets to the park for a specific date (which is the standard ticket option), you don't also need to make a reservation to a specific theme park. This adds flexibility for families who aren't sure which park they'll want to attend first — whether it's the Magic Kingdom or the wilds of the Animal Kingdom.
"You heard that right! When getting your ticket, you will simply select a start date for Jan. 9, 2024, or later, complete your purchase, and then you will be all set!" Disney explains.
2. Disney dining plans are coming back for the first time in years.
You heard that right! Disney dining plans were axed at the beginning of the COVID-19 pandemic when the park closed in March 2020, and they haven't been offered again — until now.
Disney dining plans are prepaid meal packages, an upgrade from a standard ticket, that allows guests to save money while visiting, and they make mealtime easier.
"We know our guests – and families in particular – have missed dining plans, which offer guests the convenience and peace of mind of pre-paying for their meals and snacks," the announcement explains.
3. "Good-to-go" days are coming for a select few — including Annual Passholders.
For Disney annual pass holders — congratulations to you if you managed to get a Passholder membership when they finally went on sale again in April of 2023 — and cast members, major changes are coming. "Good-to-go days" are "select" days on which "Passholders and Disney cast members can visit Walt Disney World theme parks without needing a park reservation." These days will be rolled out "on an ongoing basis," and doesn't exclude the fact that Passholders are able to visit parks after 2 p.m. without reservations, with some exceptions.
4. Fixing Disney Genie+
While Disney didn't illuminate their full plans for Disney Genie+ — which is a booking system that allows visitors to plan out their days and utilize fast passes — they did say they were going to work to "simplify" the program and "give [guests] the opportunity to spend less time planning in the park and more time enjoying the visit with friends and family."
Disney also noted a fifth update, but that change was more like a continuation of a previous policy: it would continue to offer early entry and late exit to those staying in Disney hotels.
When do these new updates take place?
The new changes aren't in effect yet, but they're coming. According to Disney, these updated changes will start with park visits on or after Jan. 9, 2024. Bookings for theme park tickets, Disney Resort hotel stays, and packages at Walt Disney World open on May 31.