Disney Is Selling These Expensive, Exclusive Passes For The First Time In Years
Now all four annual pass options at Disney World have opened, but most people will only be able to of those options — and it's expensive.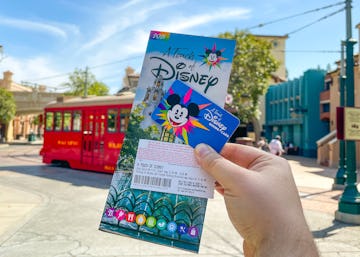 AaronP/Bauer-Griffin/GC Images/Getty Images
For the first time since 2021, Disney has opened its sale of annual passes for Walt Disney World. In November 2021, the company placed a pause on the sale of its annual passes — the only pass available for purchase from then on was the Pixie Pass, a $399 annual pass that was limited only to people who live in Florida and restricted to only weekday visits.
Now all four annual pass options are up for grabs, but most people will only be able to purchase one of those options — and none of the options come cheap.
When will Disney annual passes be available?
According to Disney, the four annual passes will be available to purchase starting at 6 am E.T. on April 20, 2023.
"Please know, as we look to provide a great experience for our Passholders, the quantity of passes will be limited, and passes, or a pass type, may become unavailable for purchase at any time," the company warns prospective buyers in a post on its company blog.
What are the options for the Disney annual passes?
There are four tiers of annual passes for Disney, each with its own perks—and price point. But for the majority of potential parkgoers, there's only one tier to qualify for, and it is of course the priciest one.
Disney Pixie Pass: This is the only pass that has been available for the past year and a half. It's restricted only to Florida residents and can only be used on weekdays. An annual Disney Pixie Pass costs $399.
Disney Pirate Pass: This annual pass is also only available to Florida residents; however, it can be used during the weekends but not during peak periods or holidays. An annual Disney Pirate Pass costs $749.
Disney Sorcerer Pass: Another annual pass that is only available for people who live in Florida and for people who are already members of Disney's timeshare program, Disney Vacation Club, and are eligible for Membership Extras. The only dates restricted under this pass are the end of Thanksgiving week and the peak of the holiday season from December 20 through January 3. An annual Disney Sorcerer Pass costs $969.
Disney Incredi-Pass: This pass is the only one that is available for anyone to purchase, no matter where you live. It's also the one that gives the most perks, and there are no blackout dates. An annual Disney Incredi-Pass costs $1,399.
What is the Disney Incredi-Pass?
The Disney Incredi-Pass is the only annual option for people who want to visit the park often and don't live in Florida, which is likely to make it a popular one. But it comes with the heftiest price tag of all.
This pass gives you access to all four theme parks with park hopping (meaning you can come and go between them) as long as you make a reservation with Disney.
You can also make five reservations at a time — i.e. book several parks pass dates in a row or have a hotel reservation and "bonus reservations," as well as additional reservation slots if you're staying in a Disney property — which is helpful since the other tiers allow for fewer registrations being held at a time. So if you're a family that loves Disney, doesn't live in Florida, and needs flexibility, that's great news.
The pass also gives you free standard theme park parking (all annual passes offer this) and up to 20% discount on select merchandise and dining experiences (another perk of all passes).
Is a Disney Incredi-Pass something a whole family could use?
Parents likely already know that a visit to Disney is expensive.
The annual Disney Incredi-Pass $1,399 cost is per person — for anyone three years old and up. Under-threes can get in free.
Of course, this tier gives a lot more flexibility, which can be incredibly helpful for a family with young, unpredictable kids, but planning a Disney vacation isn't easy for families on a budget.
For more details, check out Disney Parks' Blog or DisneyWorld.com/AnnualPass.