You Can Finally Get Dole Whip Without Going To Disney
That's right, you don't need to pay for a Disney World vacation to get your Dole Whip anymore.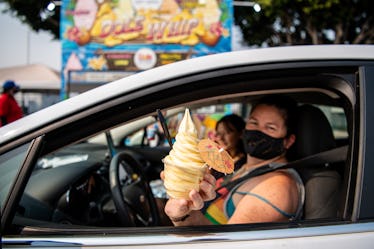 Mariah Tauger/Los Angeles Times/Getty Images
Finally, some good news for fans of Disney World! No, the park isn't getting cheaper — but one of the most popular delicacies people look forward to eating when they visit is heading to local grocery stores. That's right, you don't need to pay for a Disney World vacation (or to the island of Oahu) to get your Dole Whip anymore. Here's what you need to know.
According to a press release from Dole Packaged Foods, LLC., the company is launching several new products launching this year. And one among those caught the attention of Disney fans — Dole Whip.
The "tropical frozen treat will soon be available in three delicious in the freezer aisle at your local grocery store," the release teased.
Yes, that's the same delicious treat people flock to Disney to eat. Since the National Restaurant Association introduced the treat in 1984, per Hypebeast, guests have lined up at Disney Parks to get the Dole Whip, which quickly became the attraction's signature treat.
At the time, only one flavor was available — pineapple — which was developed as part of Dole's partnership with Disney's Enchanted Tiki Room. Then, two years later, the treat was offered at Disneyland, and several other flavors were later introduced, including cherry, watermelon, lemon, lime, orange, and raspberry.
Now, with Dole Whip hitting stores nationwide, two new flavors will also be introduced, according to the press release. Soon we'll be able to enjoy a mango and strawberry flavor, which will be sold in packs of four cups and made with the same real fruit, with no artificial ingredients promise.
Details on when we can expect to run into the Dole Whips at the freezer of our local store haven't been released yet. So stay tuned. And you can get a taste of Disney while sitting at home... not while standing in line waiting to ride Space Mountain, or after having shelled out lots of cash for a Disney trip.