Here Are the Most Poroyal babypular Bets for the Royal Baby's Name
by Amanda Tarlton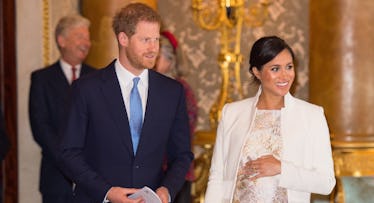 Getty
The birth of the royal baby is quickly approaching, and while Meghan Markle has yet to reveal the gender, fans are already placing bets on what the baby's name will be. According to Ladbrokes, a British betting company, Elizabeth is currently the number one choice.
"The stars might just align for the latest royal arrival," Ladbrokes representative Alex Apati said in a statement, explaining that many people have picked Elizabeth because Meghan's due date could likely fall on the Queen's birthday, which is April 21.
Close behind Elizabeth, which has 6-1 odds, are Diana and Victoria with 8-1 odds. Albert, Alice, Grace, and Philip all come in third with 12-one odds.
But Ladbrokes isn't the only site taking bets on royal baby names. Paddy Power reports that the top name is currently Diana, followed by Grace and Charles. Similarly, bookmaker William Hill has Diana and Victoria tied for first for girls and Arthur as the favorite for boys.
"At the top of the betting here is Diana at 10-1, red hot favorite. No great surprises there, obviously all the connections are there," William Hill spokesperson Rupert Adams told Express, referencing Harry's late mother. He also pointed out that Victoria, the other popular choice, is the name of Harry's great-great-grandmother.
Regardless of which name is chosen, Harry and Meghan's baby is garnering a lot more attention than that of William and Kate. "Comparatively, the Harry betting is significantly more at this stage, so 30 odd percent [more]… in real terms that's huge," Adams said to Reuters.
And names aren't the only thing people are betting on. Adams revealed that the odds of the Duke and Duchess' future child being a girl are currently 8-11 on William Hill.
This article was originally published on