Dad Hilariously Burns Daughter's TikTok Piano Performances
"Sing lazy song, lazy girl!"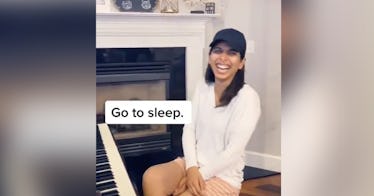 Dads make corny jokes because even if the joke isn't funny, the exasperated groans of their kids forced to listen are. Similarly, dads who roast their kids don't do so because the roasts themselves are funny on their own; they do it because their kids' reactions to these burns are delightful.
Case in point: Sheena Melwani, a self-described media artist who posts piano and vocal performances of original and popular songs all over the internet. Her dad, an Indian-Canadian man, became an internet celebrity when she started posting videos of herself playing and singing songs and reacting to her dad's off-screen commentary mocking her and the songs she sings are hilarious.
One of Melwani's videos blew up on July 4 when it was posted by another influence. It's now at 1.2 million views and counting on Twitter alone.
"Today I don't feel like doin' anything," she sings soulfully before her dad says "What's new?" Melwani giggles but keeps singing as her dad roasts her: "You didn't even wear pants today! I'm paying $62 every month for your patloons to hang on the Pelotoon bike!"
"Sing lazy song, lazy girl!" he says as she cackles. "Tell me. Tell all your friends how lazy you are." Finally, she collapses in laughter and gives up on finishing the song.
Melwani's TikTok page has plenty of other videos of her dad interrupting her music, all of which are amusing. In some of the best ones, he basically just has a dialogue with the lyrics of the song.
Melwani's dad calls "Grenade" by Bruno Mars "complete nonsense. Playing piano, with bleeding hands?!" It is kind of dumb when you think about it.
When his daughter sings that she'd put herself in front of a train he says "Hey! This is getting serious. These are not good examples of love. Cannot love a bleeding, train-person, stuck on the front. This is all, this is all fiction."
But the piece d'resistance of this #therealindiandad video has to be his mocking of the line "take a bullet straight through my brain."
"What, what bullet? Tell me about your bullets. Magic Bullet: drink a smoothie, go to sleep!"
This article was originally published on