Colin Jost Was On Night Duty For Cosmo While ScarJo Filmed Asteroid City
Scarlett Johansson gave some props to her husband, Colin Jost, for all his support when she was on set filming her latest movie, 'Asteroid City.'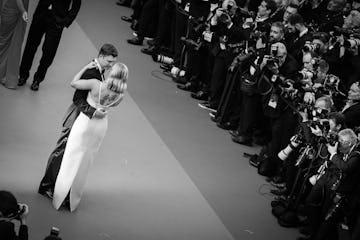 Mike Coppola/Getty Images Entertainment/Getty Images
Scarlett Johansson gave some props to her husband, Colin Jost, for all his support when she was on set filming her latest movie, Asteroid City.
In an interview with People, Johannson recently got candid about being a working mom and how much Jost's support meant to her, particularly since he stepped up just weeks after their son was born while she returned to the set.
"I hadn't worked," she explained in a conversation about what it was like to be on the film set just eight weeks after her baby, Cosmo, was born. "Not just because I had a baby, but there was COVID. I hadn't shot anything in like three years or something like that."
Returning to work after having a baby and after COVID is stressful for the everyday person, but Johansson said Jost joining her on set and taking overnight duty for their son, Cosmo, made that transition so much easier.
"He was able to come for like a week or something like that, which was also incredibly helpful, especially because you need someone to burp the baby in the middle of the night," she revealed. "It's great when it's your partner there to help you do it."
Johansson previously shared that Jost had joined here on set during the filming of Asteroid City, and it wasn't only amazing for her because she could spend time with them during breaks in filming, but their presence brightened the day for her crewmates, too.
"I actually wasn't popular; it was just the baby," Johansson said. "People were excited to see the baby, not me. They're like, 'Oh, it's you. Where's baby?'"
Johansson has shared that her marriage to Jost has been a very different and refreshing experience for her. And she's learned that for her, she needs a partner who is compassionate and present — like Jost joining her on set, so she didn't have to be separated from him or their son — or handling it all alone — while she worked.
And this example of the shifting duties within a partnership echo some advice Michelle Obama previously spoke about with what she's learned in her 30-year marriage to Barack Obama.
"For 10 years while we're trying to build our careers and worrying about school and who's doing what, I was like, 'Oh, this isn't even,'" she shared in December of last year.
"And guess what? Marriage isn't 50-50 ever," she added. "There are times [where] I'm 70 [and] he's 30. There are times he's 60, [and I'm] 40."