ScarJo and Colin Jost Are Reportedly Having a Baby
But will the baby be hilarious?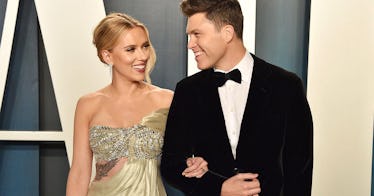 GETTY
It sounds like congratulations are in order for Black Widow's Scarlett Johansson! It's been reported that she's pregnant and is expecting her second child, her first with her husband, Colin Jost. Here's what we know.
According to multiple sources, including Page Six, Scarlett is expecting her second child. Neither she nor Colin have confirmed the news, with the sources reporting the parents are trying to keep the details very low-profile.
"Scarlett is actually due soon; I know she and Colin are thrilled," one source said. Another insider adding that the Marvel star "is pregnant but has been keeping it very quiet."
Rumors about being pregnant aren't new to celebs, but ScarJo missing several Black Widow press events ahead of the movie's release, as well as the premiere, sparked an interest.
"She hasn't been doing many interviews or events to promote Black Widow," one source said. "Which is surprising since it is a huge Marvel/Disney release, and she is both the star and an executive producer."
And of the promotional interviews ScarJo is doing, she's doing so remotely, including an appearance on The Tonight Show with Jimmy Fallon (and an upcoming interview with Fatherly!).
A third source told Page Six that ScarJo and Colin have changed their typical routine to maintain their privacy more closely than they usually do. "Scarlett usually spends a lot of the summer out in Amagansett and Montauk, and you'd often see her walking her dogs on the beach or getting coffee," the source said. "But this summer, it seems like she is deliberately trying to keep a low profile."
While sources say all the signs point to baby news on the horizon soon, neither Scarlett nor Colin have confirmed the information themselves. And if they are being secretive about the potential pregnancy, we wouldn't be surprised if they kept the birth a full secret, too. The couple, who wed in October 2020 and parent Scarlett's 6-year-old daughter from her second marriage, have always kept their personal life pretty private.
This article was originally published on