The Big Mistake Chris Pratt Made In His Mother's Day Message Was Totally Avoidable
Don't forget your baby's mama!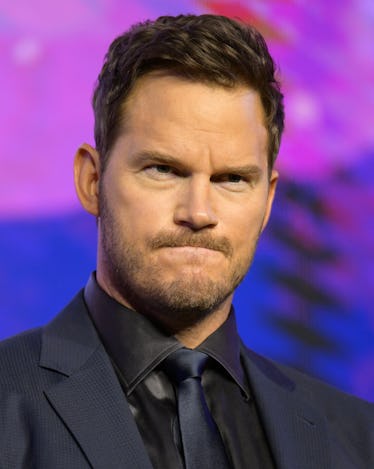 The Chosunilbo JNS/ImaZinS/Getty Images
Chris Pratt has found himself receiving lots of criticism after he shared a personal Mother's Day post over the weekend. It wasn't what his message said that upset people; it was what he didn't say — specifically to his ex-wife and mother to his oldest child, Anna Faris. And it was all totally avoidable.
Pratt's Mother's Day tribute to social media gave props to his mom, Kathy, his mother-in-law, Maria Shriver, and his wife, Katherine Schwarzenegger, with whom he shares two young kids.
"Happy Mother's Day to all of the mothers out there," Pratt captioned the post. "Especially grateful today for Katherine. You're a wonderful partner. You've provided me such a blessed life. Our two daughters are so lucky to have you and you're the best step mama to Jack."
He continued: "And to my mom, Kathy, you raised us with such love and light and laughter— so grateful for you today and always. And to Maria, the best Mama G, I'm lucky to have you as a mother-in-law. And to all of the other moms in my life, I'm so grateful for all you do- thank you so much. Hope you feel celebrated today."
The message accompanied a photo of Pratt with Schwarzenegger and their moms, but people were critical of someone missing from the written tribute — his ex-wife, Faris.
Fans felt since Pratt mentioned their 10-year-old son, Jack, and gave props to Schwarzenegger for being "the best step mama to Jack," that omitting a nod to Faris in his Mother's Day post was intentional and rude.
"How about your ex wife?" one person asked. "She is still the mother to your child with her."
"What about your first wife?" another person questioned. "She's being super mom raising your first child."
To be fair, we don't know what the co-parenting relationship is like between Pratt and Faris — they could have a wonderful relationship where both feel supported and are very private about it. But as one of the critics called out, Pratt has a huge platform, and the mistake feels avoidable, as simple as including her in the post or even just referring to her as "Jack's mom." The omission of Faris was a totally avoidable mistake, and it's possible that one day, his son, Jack, will come across something he wrote — or something he didn't write, like in this case.
It's not far-fetched or unreasonable to assume that Jack or someone in their circle (whether it be family members of Faris or friends) would maybe look at Pratt's Mother's Day tribute and wonder why Faris wasn't mentioned and start to infer something that may or may not exist. And, understandably, it could unintentionally harm the important co-parenting relationship.
One of the biggest tips for maintaining a successful co-parenting relationship includes keeping kids centered and top of mind while also effectively communicating — which includes doing what you can to keep any unintentional harm or assumptions from being discussed. Which may be even more important when you have such a large spotlight like Pratt and Faris do.
Unfortunately, this isn't the first time Pratt has avoidable shared something on his social media that left a sour taste in people's mouths. In his 2021 Mother's Day post, he was called out for a similar tribute to this year's, where he omitted Faris.
Also, later that same year, Pratt made a social media post thanking Schwarzenegger for giving him a "healthy daughter," which people read also as a slight to Faris given the health challenges their son has had since birth.