Chris Pratt and Katherine Schwarzenegger Have Baby Girl, Reveal Her Name
by Isabella Bridie DeLeo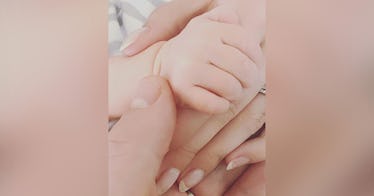 Chris Pratt is a new dad again! Pratt's wife, Katherine Schwarzenegger, just gave birth to a baby girl sometime on Friday. And it looks like the Schwarzenegger-Pratt family has been buzzing with excitement over the past few months with anticipation.
Proud grandpa Arnold Schwarzenegger recently took to The Tonight Show Starring Jimmy Fallon in May to gush over his daughter's pregnancy, saying, "Think about this for a second… there's three gene pools that you can do," He added, "There's Kennedy, there's Schwarzenegger, and Pratt. We can do anything. We can go and solve the Cuban missile crisis… We can go and train dinosaurs. I mean, think about it!," he said, per ET. Well, the kid probably won't be able to train dinosaurs (although her dad did train some CGI ones in the Jurassic Park franchise), but Schwarzenegger isn't exactly wrong. The newborn, named Lyla Maria Schwarzenegger Pratt, does come from an extraordinarily well-connected family line. From the movie business to politics, she can pretty much do anything.
Earlier today, Pratt posted a sweet picture of him, his newborn daughter and his wife holding hands, captioned, "We are beyond thrilled to announce the birth of our daughter, Lyla Maria Schwarzenegger Pratt. We couldn't be happier. Both mom and baby are doing great. We are extremely blessed." The baby is Katherine Schwarzenegger and Pratt's first child together, but Pratt has another child, 7-year-old Jack Pratt with ex-wife Anna Faris. And now Pratt is a #GirlDad.