AirBnB's IRL 'Bluey' House Is Equal Parts Cute and Terrifying
The idea is "Whackadoo," but also kind of adorable.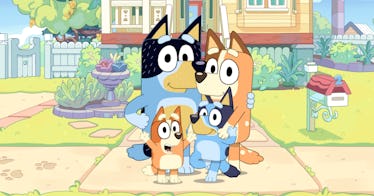 BBC Studios
As parents, it's really easy for us to get wrapped up in the world of our kids. We start calling dogs "doggies" and eat our grilled cheese sandwiches without crust, too. And — when the show is good, like Bluey — we're invested in their favorite TV shows and the playful drama that goes on in those worlds. Getting away from all that is important … for our sanity and our grown-up relationships. That's why AirBnB's real-life recreation of the house from the popular kid's show Bluey is throwing us for a loop. While television is a great escape, we're not sure if anyone asked to be able to actually go to Bluey and her sister's house… especially if they've shelled up the cash to go to the land down under. Nevertheless! The recreation of the house exists, so if you want to go, you certainly can, and if you definitely DON'T want to go, hide the news of this house from your kids.
For parents who have somehow been living under a rock for the past several years, Bluey is a super popular and blissfully super not annoying kid's cartoon that follows a six-year-old dog and her family. A whole lot of adventures happen in her world with a large portion of it happening in the beautiful family home. (And there are some dark theories as to how her parents can afford such a house, too.)
The show is wholesome and full of humor. And it's one of those rare shows that don't make parents want to rip their ears out. And now the home where all that magic happens has been recreated and turned into a real-life rental. But is it… actually really weird? And a little bit scary to see something that's 2D and animated be real-D and… real?
"On a quiet, leafy street in the heart of Brisbane, something magical has happened… the Heeler home from Bluey's wonderful world has been recreated – for real life," a tweet from the official Bluey Twitter account shared.
"It's been building for over a year and it's unbelievable to see this on @Airbnb today," tweeted Bluey executive producer Daley Pearson. The home has been recreated with meticulous detail and yes, it is admittedly super adorable. Inside the home, every detail has been hit. There's the kiwi rug, toys that we see in the cartoon, the fun pops of color, and adorable quirks that make the home feel so … wholesome.
"From the moment you step on to the front lawn, you'll be transported to Bluey's vibrant world, spotting familiar touches like the red letterbox, bone-adorned chimney and iconic bay window," the listing reads. "Escape to the backyard and you'll find a verdant oasis for family games – like Horsey Ride and Keepy Uppy – with a BBQ, kids'-sized trampoline, Grannies' car, custom toadstool seats, and bespoke dog garden gnomes."
The home is perfect for up to four guests with two bedrooms and three beds in total. It's an adorable, and bizarro, getaway for a family, but not much else. You're not allowed to host parties or events at the home, so while it would be one of the most fun places to host a birthday party — this house is just weird enough to be super interesting — it's a little too creepy for anything else. I mean, what if you just wanted to do some normal sightseeing in Brisbane? And instead you're in a cartoon-house of cartoon characters?
It's uncanny. It's really like if a cartoon came to life. For some people, that might be fun but for others it might feel like a waking nightmare or anxiety dream gone totally wrong.
We know parents need time away, and kids do, too, but probably not enough to rent. If that's your thing — and getting to Australia is somehow accessible to you in the next 8 to 10 days — it's available for bookings on February 14 at 4 p.m. ET and will allow for a two-night stay from February 18 to 20.
If you're happy to keep visiting the world of Bluey from the comfort of your own couch, the show is available to stream on Disney+.
This article was originally published on