What Biden's Executive Order For Child Care Will — And Won't — Do
Affordable child care in America is in decline. What can an executive order do about it?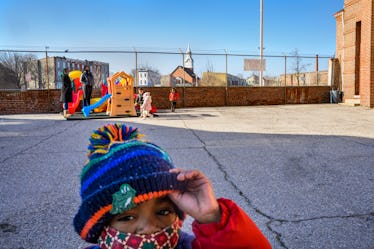 The Washington Post/The Washington Post/Getty Images
On Tuesday, April 18, President Biden signed an Executive Order aimed at American's child care and adult care crises. Hoping to make good on campaign promises and a child care plan that has stalled in Congress, the order directed nearly every cabinet-level agency (close to 50 in total) to identify ways to alleviate the financial burdens and other hurdles faced by parents and caregivers seeking care for children and older adults. The order also addressed the low pay common across caregiving fields.
"It's a realization from the president that if we keep going the way we're going, we're limiting opportunities for those who want to continue in the workforce," Secretary of Education Miguel Cardona said in an interview with Fatherly. "The cost of child care and family care, or caring for those with special needs, has just ballooned. Over the last 10 years, [the cost of] child care has ballooned 26%. Caring for family members, the cost of visiting nurses, and all that has ballooned by 40%."
So, could this executive order lead to government grants for child care? Cheaper child care? Increased access to Head Start? In a word, no. Not in itself. This Executive Order is basically an ask for the entire executive branch — which includes everything from the Environmental Protection Agency to The Department of Housing And Urban Development to the Department of Education — to look internally and see what they can come up with to alleviate the problems in child care. So, basically, it sets the executive branch in motion.
"The president is telling the secretaries, 'Hey, look under the hood. What are we doing to help these families? I want to see some results from each one of you to make sure that we're helping these families across the country,'" Cardona says.
Why Child Care, And Why Now?
According to a recent Census Bureau data analysis, the average American family spends about $17,000 of their income annually on child care alone. Those costs can be much steeper depending on where you live and, for many families, access to child care, even if it is affordable, cannot be found.
"In the pandemic, we made it even clearer just how hard it is for millions of working- and middle-class families to provide care for their families," Biden said about the order. "It's not just how important the care economy is to the entire economy, it's when people have to leave the labor force or can't enter it in the first place because of caregiving responsibility, they can't fully participate in the economy, and that drags down the whole nation's productivity and growth overall."
It's also about cost. Everything, not just child care, is more expensive. With the expiration of family benefits like 2021's child tax credit — which gave millions of parents hundreds of dollars a month in cash and a huge bonus at tax time — families are struggling to make ends meet. Child poverty and hunger have increased as many families are also teetering on a financial cliff as Supplementary Nutritional Assistance Program (SNAP) benefits have shrunk significantly. That's not to mention the increase in the cost of basic goods like groceries and rent due to inflation. In other words, help is sorely needed.
Specifics From Biden's Child Care Executive Order
The order (full text here) asks a lot of the Executive Branch and shows that child care will be a priority in the coming months, and potentially an election issue.
"Almost every federal agency will collectively take over fifty actions to provide more peace of mind for families and dignity for care workers," the President said Tuesday, adding that the Order is "the most comprehensive set of actions any administration has taken to date to increase access to high-quality child care and long-term care and support for the caregivers."
Specifically, Biden's order:
Directs cabinets to identify existing grant programs that may be used to provide child and long-term care support to individuals working on government projects.
Directs the Office of Personnel Management to identify existing child care subsidies and revamp programs providing subsidies to federal workers.
Directs the Department of Defense to increase the availability and accessibility of child care on military bases.
Directs the Department of Health and Human Services to increase accessibility and ease restrictions on child care infrastructure for Native American Tribes.
Directs HHS to increase pay and benefits for Head Start teachers.
As for what this could mean practically for parents, Secretary of Education Cardona said: "Let's say I'm going to work with colleges to make sure that they're using the money for that program called CCAMPIS, which is again, child care on campus so parents could go to college... That's one example of what we could do: to encourage college campuses to expand that program."
The State Of Government-Assisted Child Care
Right now, parents, in general, get child care access through a patchwork of government-assisted programs, state-run universal Pre-k or 3-K programs if they have access to Head Start programs, or privately run child care centers, among others.
The EO could also "expand and guarantee access to affordable child care for families, including military families, and directs the Department of Defense "to take steps to improve the affordability of child care on military installations," per CNN.
While the Executive Order will help expand access to child care for many working Americans, it won't be able to help all Americans. For that, new legislation is needed.
"Look, legislation helps," Cardona told Fatherly, referring to the $750 billion Biden called for in his 2024 Fiscal Year budget to help shore up affordable child care, preschool, and long-term care. $600 billion alone of that would be spent on kids who need child care and preschool.
"All families need a little bit of support. Yes, there are some that are really struggling to make ends meet, but the cost of child care growing 26% in 10 years affects everybody," Cardona said.
Biden's budget proposal for early childhood education would increase funding for child care centers nationwide. Some money would be spent, for example, on building out more slots for early childhood education. The proposal would also lower costs for families, half of whom according to one study pay more than 20% of their income on child care while increasing pay for providers, who are paid on average less than $15 an hour.
But that's just Biden's budget proposal. For any of these changes to go into effect, major spending packages need to become law, and with a Republican-controlled House and a practically evenly-divided Senate, chances of a bold agenda that would make lives easier for all working parents are slim.