Biden Admin Pauses Student Debt Payments for 5th Time. Advocates Want More.
Biden will continue the student debt payment pause until August 31st. Advocates are getting annoyed.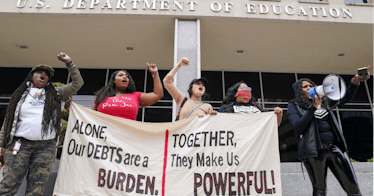 On Tuesday, April 5th, reporting revealed President Joe Biden once again will extend the student loan debt payment pause — the fifth time the pause has been extended since it began in March of 2020 as the COVID-19 pandemic hit U.S. shores for the first time. President Biden will extend the moratorium on student loan debt payment and interest until August 31st, 2022.
The Extended Payment Pause Is Good News for Borrowers
The news is welcome to the 43 million Americans (12.9% of them) who carry student loan debt to the tune of $1.6 trillion. Although most Americans who hold student loan debt are age 25 to 34, Gen Xers — people aged 35 to 49 — actually hold the most debt per person. And that includes parents who hold student debt for their kids. A January survey found that 34% of the 3.6 million parents who hold Parent PLUS loans don't think they'll be able to pay them off. Another survey from June 2021 found that at the time, more than half of Americans supported wholesale student debt cancellation.
It's not difficult to see why student debt cancellation is so popular. Student debt — and notably the crushing interest rates that can make it much harder to pay off — has stopped many Americans, many of whom are becoming parents or have families, from being able to save for retirement, buying a home, saving for their kid's college in the future, and more. But it's also, for many advocates and student debt holders themselves, starting to get a little frustrating. Many advocates want Biden to take stronger, and more decisive, action on student debt.
Biden Still Hasn't Taken Decisive Action on Cancellation
Although inflation has risen by a whopping 7%, and the pause on thousands of dollars of student loan payments a month will help parents keep their budgets as tight as possible (5 billion has been saved so far for 41 million borrowers per month, per the Education Department and USA Today), President Biden did have a campaign promise to cancel $10,000 of student debt per borrower. And he hasn't followed through on that promise.
In 2020, the average amount of debt a borrower held for their Bachelor's degree was $28,400. The average Gen Xer holds about $45,000. So although $10,000 certainly wouldn't end most people's debt obligations altogether, it would make a significant dent in an amount of money owed, which many people struggle to pay off in their lifetimes.
Biden Has Options to Cancel Debt — And Advocates Want Him to Take Them
Biden promised to cancel $10,000 of student debt per borrower, but he hasn't yet taken action on doing so since his inauguration. Although Biden argues he would need the Senate and House to pass a law to cancel the debt, some experts say he has the broad legal authority to cancel debt via executive action. There's a slim-to-none likelihood that such a debt cancellation bill would ever make it out of the Senate, which is split 50-50 between Democrats and Republicans. Meanwhile, progressives such as Senator Elizabeth Warren and Chuck Schumer have called for Biden to cancel $50,000 per borrower "with the stroke of a pen."
President Biden has so far instead focused on targeted debt relief for people unable to pay their loans due to disability, people who have been defrauded by for-profit public colleges, and more. But broad cancellation is still out of reach.Groups such as the Debt Collective have organized 1,000 professors to sign a letter urging the President to cancel student debt for all; unions and community groups have also organized to demand the same.
This article was originally published on