The Barbie Movie Finally Delivers For Kids: A Real-Life Barbie Dreamhouse
The Malibu DreamHouse has been brought to life but with a Ken twist.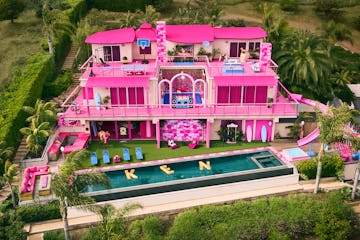 Airbnb
If you were a kid that played with Barbies, the Barbie Dreamhouse was likely your first taste of bonafide real-estate envy. Barbie's Malibu mansion was the stuff of, well, dreams: huge, several stories, always full of Barbie friends. The dreamhouse dream was one that only became increasingly out of reach as we grew into adulthood and realized just how much it might cost to get a hot pink home (or how many HOA rules we'd have to fight) in coastal California.
But for those who never let go of the dream that they may one day step into a Barbie dreamhouse, vindication is on the horizon: Barbie's Malibu DreamHouse is on AirBnb. And you can stay in it (if you're lucky.) That's right, the kooky sci-fi world of the Barbie movie has entered our dimension.
Sure, sure, it's not really a Barbie DreamHouse come to life — just a house cosplaying as one for the weekend — and yes, it's essentially a promotional tool for Greta Gerwig's Barbie movie, hitting theaters on July 21, 2023. But for kids who have been left out of the Barbie movie craze (we firmly believe the movie is for adults, rather than kids) and adults whose childhood fantasies have just come to life, this is a dream house come true.
The house is as obnoxious as you would assume, given it's a replica of the doll house. The hot pink exterior is replete with plastic-looking railings (just like we remember!) and a third-story balcony.
The interior décor is very Barbie — hot pink fabulousness everywhere — but there's a sprinkle of Ken's love of the wild wild west, as there's a plastic life-sized plastic horse, animal skin rugs, and leather throw pillows.
Bookings to stay at the mansion open on July 17. However, there are only two dates that will be available — July 21 and 22, each for one night only, and no more than two guests can stay since the Dreamhouse only has one bedroom with one bed.
Since the Barbie movie is almost certainly not for kids, maybe they can have a strange one-night vacation (with one parent) and live out their Barbie dreams.
For more information on staying at the Dreamhouse, check out the Airbnb listing.
Barbie hits theaters on July 21, 2023.