Europe's Most Popular Baby Names May Prove The Inspiration Americans Need
The popular names across Europe have a familiar feel — but many are different enough to be unique.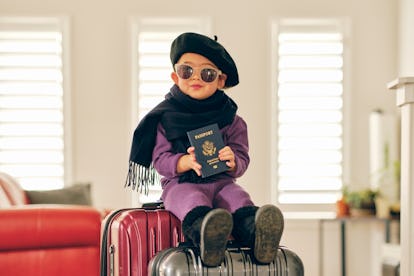 RichLegg/E+/Getty Images
Parents have been seeking international inspiration for baby names for millennia — and names have been crossing borders and going global for just as long. Take the two most popular names in the United States: Olivia has topped the list nationally for girls since 2020 — but it first went from obscure to on-trend thanks to some 17th-century pop culture (William Shakespeare's Twelfth Night featured a beautiful heiress named Olivia). And Liam, which tops the boys name list in the U.S., is a centuries-old Irish twist on the German name William.
Letter Solver — a site that aims to help you solve crosswords, Wordle, anagrams, and more — set out to identify the most popular baby names worldwide by conducting "manual research in every country's native language."
"We only include reputable reports that include analysis of baby naming trends," the site explains, prioritizing "reports from the previous 12 months" where possible.
While you won't find Liam anywhere on Letter Solver's map of Europe's most popular names, the second-most-popular boy name in the U.S. — Noah, with roots in the Hebrew word for "rest" — is the top pick in six countries, including Scotland, Germany, and Switzerland. (Outside the U.S., Liam is also the most popular boy's name in Peru and Ecuador.)
And while the reign of Olivia continues in the U.S., it's also the most popular baby name for girls in England, Wales, Scotland, Belgium and Finland. The second most popular girl's name in the U.S. — Emma — also pops up everywhere from Luxembourg to Monaco.
But there are dozens of other names topping the lists — Noel, Marie, Luka, Jade, Hanna, Astrid, and many others — that are less commonly used in the U.S. and that might provide the inspiration parents need. And some of the names on the list (like Slovenia's Ema, or Liechtenstein's Emilia) might give you inspiration to give your baby an alternatively spelled name.
Here are the most popular boy and girl names in Europe:
Albania - Noel & Amelia
Austria - Paul & Marie
Belgium - Noah & Olivia
Bosnia and Herzegovina - Davud & Sara
Bulgaria - Alexander & Victoria
Croatia - Luka & Mia
Czech Republic - Jakub & Eliska
Denmark - William & Ella
England - Noah & Olivia
Estonia - Robin & Mia
Finland - Leo & Olivia
France - Leo & Jade
Georgia - Giorgi & Mariam
Germany - Noah & Emilia
Hungary - Levente & Hanna
Iceland - Emil & Embla
Ireland (Northern) - James & Grace
Ireland (Republic) - Jack & Emily
Italy – Leonardo & Sofia
Latvia - Olivers & Emiliju
Liechtenstein - Elias & Emilia
Lithuania - Markas & Sofija
Luxembourg – Louis & Emma
Macedonia (North) - Luka & Jana
Malta - Luca & Mia
Moldova - David & Sofia
Monaco – Leonardo & Emma
Montenegro - Luka & Sofija
Netherlands – Noah & Emma
Norway - Jaokob & Nora
Poland - Antonia & Zofia
Portugal - Francisco & Maria
Romania - Andrei & Maria
Russia - Alexander & Sofia
Scotland - Noah & Olivia
Serbia - Luka & Sofija
Slovakia - Jakub & Sofia
Slovenia - Filip & Ema
Spain - Martin & Lucia
Sweden - William & Astrid
Switzerland - Noah & Mia
Ukraine - Arten & Anna
Wales - Noah & Olivia
To check out the full list of the most popular baby names around the world, head to Letter Solver.