Ashton Kutcher And His Kids Just Crossed A Major Finish Line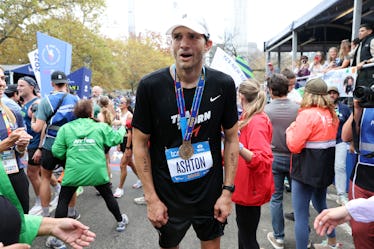 Jamie Squire/Getty Images Sport/Getty Images
Remember when Ashton Kutcher's wife, Mila Kunis, told the world that his next major parenting project was to run a 5K with his kids? Well, he followed through with that, taking on the LA Big 5K on March 18th. Ashton and his two kids, daughter Wyatt, 8, and his son Dimitri, 5, ran along with him.
According to Runner's World, Kutcher and his kids finished the 5K race last weekend with a finishing time of 42 minutes and 19 seconds. This, according to Running Level, is pretty on par with a beginner-level run time for a kid who is ten years old.
It seems like the Kutcher kids are following in dad's footsteps. Last November, Kutcher ran the New York Marathon, clocking in an impressive 3:34:01 run time.
While training for that race, his two kids were there to cheer him on leading up to the big run. And they were there to cheer him on as he crossed the finish line. The kids loved watching him so much that they wanted to run, too.
"Now they're going to start," Kutcher's wife, Mila Kunis, shared at the time. "They want to run a 5K, and today he started training our kids to run. They did a half-mile run today. It's very cute."
Kunis made it really clear that running a 5K wasn't something she was at all interested in doing. But she did think Kutcher's love for the sport is good for the kids. "It's amazing for kids to watch their parents go through it because it's not easy," she said.
"It takes a toll on your body, and so our kids got to see him overcome all of this. It was very cool."