Adele & Rich Paul Are Certified Baby Name Tastemakers
Adele has babies on the brain!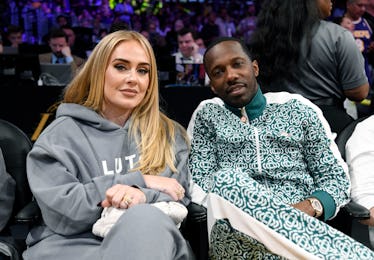 Kevork Djansezian/Getty Images Entertainment/Getty Images
Adele has babies on the brain, and while she's not ready to expand her family yet, she is doing some early prep work when it comes to narrowing down a baby name, if a recent conversation she had at one of her concerts is to be believed. And two of her favorites are uncommon gender-neutral names.
According to People, during one of Adele's Las Vegas residency shows, she spoke about being ready to have another baby, which a fan shared a clip of on TikTok.
"I really want to be a mom again soon," Adele said after a pregnant person in the audience asked for help choosing a name for her soon-to-be-born daughter. "I've actually been writing lists," she added. "So every time I see a name that I like, I write it down in my phone."
The audience member asked Adele to give her opinion on which name she should choose for her baby-on-the-way out of two names she has on her shortlist — Spencer and Parker — Adele had a quick answer.
"I can't say Parker because Rich likes that name," Adele replied, speaking of her fiancé, Rich Paul, before choosing Spencer, adding that she also loves the name Ray.
Will Paul and Adele have babies? Who knows! But if they do, these two names just shot right to the top of the shortlist — or at least a potential vibe for a potential baby-to-be. The two names Adele suggested also give us a hint that she and Rich are likely leaning toward names that are uncommon and maybe even gender-neutral.
According to Nameberry, Spencer is of English origin and means "house steward, dispenser of provisions." The baby naming site notes that "Spencer is a name that has everything: it's both distinguished sounding and accessible." (Princess Diana Spencer vibes!)
According to the U.S. Social Security Administration (SSA), Spencer is a name that's been around since the 1900s for boys and ranked 338 in 2022. For girls, the name Spencer just landed in the top 1000 list in 2017, ranked 980 before dropping from the list the following year.
The other name Adele noted, Ray, is also a unique gender-neutral name. According to Nameberry, Ray means "wise protector" and is a derivative of Raymond for boys and Rachel for girls.
According to the SSA, Ray is a name that's been around since the 1900s for boys and ranked 761 in 2022. For girls, the name Ray has also been around since the 1900s, peaking in popularity in 1902 before dropping out of the top 1000 in 1936. Spelling the name "Rae," which is more popular for girls, landed the name at rank 948 in 2022, but it peaked very early, in 1914.
And Parker is also a super popular gender-neutral name, an English name of Old English origin that means "park keeper." The name is the 94th most popular baby boy name in the U.S. and has been one of the 1,000 most popular baby names in the U.S. since the year 1900 at least. It's also almost as popular for baby girls — though it didn't become popular as a girl's name until 1999, the name has only become more popular every year. It's currently the 115th most popular baby girl name in the U.S.
Adele is already a mama to her 10-year-old son, Angelo, whom she shares with her ex-husband Simon Konecki.