I Put a $1,300 Crib on Our Baby Registry. Now My Wife Is Flipping Out.
A dad gets proactive and puts together a baby registry with items that they can't necessarily afford. It backfires.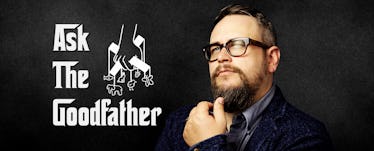 Dear Goodfather,
I'm really ridiculously excited for my baby to arrive (it's a boy; he's a boy!). We're 4 months out and shit is getting real. Like, the-nursery-is-painted-and-I'm-wrapping-the-registry real. So about that baby registry. In hopes of getting off to a good start and taking over some tasks that are normally "mom-tasks", I've taken charge of the registry (and shower planning!) and, well, now I'm in trouble. I showed my wife the registry — which had already been sent out thanks to my over-enthusiastic mother-in-law — and my wife sort of lost it. She was upset by a bunch of big-ticket items like a really nice West Elm storage unit and a gliding rocker, but she was mostly upset by the SNOO.
She basically said I was making us look like assholes for registering for a $1,300 crib. The thing is, I want the crib. It's dope. We can (barely) afford it, but I'm willing to sacrifice a little — a lot, really — for my baby. This is the most important moment of my life. The welfare of my child is the most important thing to me since, well, ever. The second best crib for my kid? But why?
The other thing — and this is why I'm most lost — is that most of her family is better off than we are. If I think we can afford it, so my thinking goes, why would they think poorly of it?
Snoo-zing in San Antonio
Before we get to your wife's possibly overdeveloped sense of propriety, we should probably address a possible tactical error on your part. Your partner is right in that a $1300 crib is a pretty big ask. So what happens if nobody bites? Regardless of whether it's proper to register for a SNOO (we'll get into it) the fact is that your baby is going to need a place to sleep when they arrive. You will want that place to be built and ready the moment you bring your kid home. So, think about hedging your bets. You don't want to be scrambling for a crib, smart or otherwise, from the delivery room.
Now, do you even need a thousand-plus dollar smart crib to put your baby to lay your baby in? No. Is it a good tool that many (affluent) parents swear by? Absolutely. And I don't see much reason for you or your wife feel weird for having it on your registry. In fact, I'd be more concerned about that storage unit, which is frankly more for you than it is for your baby.
When it comes to baby registries, in general, it makes sense to register for products that offer a wide variety of price points for people who'd like to help you start your family. This giving makes people feel good. It makes them feel like they have some kind of stake in your future. And those stakes can be minimal — gifting a bundle of much-needed burpees — or extravagant, as would be the case with the SNOO.
The range also allows people to gift commensurate with how connected they feel to your family. Distant friends may opt for buying a 4-pack of pacifiers. A lifelong close friend of your partner might spring for the fancy breast pump. Relatives, and soon-to-be grandparents, in particular, will generally look for the higher ticket items if they can afford them. Why? Because they want you to know they have your back, they love you, and they love the fact that you're giving them a grandkid.
Is it possible that someone might scoff at your SNOO, or roll their eyes? Sure. And frankly, that person is likely not a parent who has struggled with sleep training. It's also very likely that they would have scoffed at any item over a couple hundred bucks. The SNOO is not for them to buy. And that's totally okay. If you've done your registry right, they will find an item that suits their level of generosity.
Think of your baby registry kind of like the menu of a relatively upscale restaurant. Sometimes these restaurants will add aspirational menu items — a really expensive steak for instance — that they know most people probably aren't going to buy. But the price of that aspirational steak works to make everything else on the menu look pretty damn affordable in comparison. That SNOO is basically your aspirational steak. It makes the rest of your registry look affordable, and if someone happens to buy it, like a wealthy relative, then everybody wins. You get the SNOO, the rich relative gets to feel rich and helpful and everyone else gets to feel like they've done the best they possibly could insetting your family up with what they could afford.
The only person who might feel bad about someone buying your family a SNOO is your wife, who sounds as if she might have an overactive sense of propriety. I would urge you to have a conversation with her about this ASAP.
Here's the thing: a baby registry is one of the very few times in your life as a parent that people are encouraging you to ask for help. A registry allows friends to help you build your essential baby toolkit to ensure care can start right away. But know that once you get started, that encouragement to ask for help can often become little more than lip service.
Unfortunately, the shrinking of support often runs counter to the fact that you will need more support as your kid grows. Baby sleep issues can be a nightmare and you best believe there are few who would be willing to help you out with your fatigue and stress, even if they could. In that case, the SNOO will be much appreciated. In other words, a registry is a chance to get all the help you can now form as many people as possible because soon enough you'll be on your own. I'm not trying to suggest that your friends and family will stop caring about you. It's just that this is the way we raise children in America. So take advantage of a time when people are ready, willing and excited to pitch in.
And look, if it turns out that your wife is going to put her foot down, then you maybe see if she'd be willing to swap the SNOO for something that might be just as helpful. Maybe she'd be willing to split up the cost of the SNOO in hundred dollar cash increments that could be used for the cost of childcare, which will quickly become an essential concern. Or, maybe she'd be willing to swap out other high-ticket, but non-essential items so you don't look greedy. In all honesty, that storage unit won't be as helpful as a Nose Frida snot sucker, or a humidifier, or even diaper cream. This is not a time to be shy. But it is time to be strategic. Look through your registry and think: what will give me and my baby the best for the most amount of time.
But again, whatever happens, make sure your baby has a place to sleep when they get home. Don't let your love of a high-end crib deprive your kid of a place to rest their head.
This article was originally published on