The Backyard Is the Most Important 'Room' in Any Family Home
If we've learned anything from this pandemic, it's the value of private outdoor space. But it's not how much you got. It's how you use it.
by Fatherly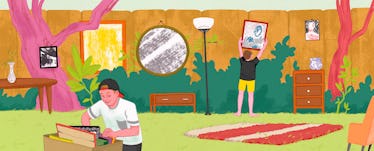 Ivy Johnson for Fatherly
Real estate agents shape perception for a living and the first thing they'll tell you about any piece of property is the square footage. Then, if you don't live in the city, they'll helpfully add that the number doesn't include the yard, at which point they'll want to get into acreage. So the yard lives in mathematical limbo. It's living space, but under the auspices of land. Ask a friend how big their backyard is. They won't know.
What they will know — and this is assuming you have the sort of friends worth having — is everything about that space. They'll have a name for the frog that lives under that rock near the porch. They'll know what bushes the birds and where the water pools in spring. They'll have strong opinions about where the grill should be and how the hose should be stored and the very best place to drink a beer.
Smart people know that their yard is the most important room in their house. Smart people know that real estate agents are liars.
And the backyard has never been more important than it is now. Amid lockdowns and quarantines and with the threat of Covid-19's second wave looming, the value of private outdoor space is at an all-time high. To be able to walk outside and breathe fresh air and look up at the night sky or out on a few thousand tufts of fine fescue has never been more meaningful and profound. The backyard isn't an antidote, but it's a hell of painkiller.
So let's celebrate the unsung space. Let's acknowledge that the backyard is a living space too and that, right now, it's the best one we've got.
A Mud Kitchen Is the Must-Have Backyard Toy for Kids
Mud kitchens allow kids to make, squish, and experience mud. More importantly, they help them explore their imaginations and thrive in summer. Read More →
DIY Fairy Garden Ideas for Kids Who Can Dig Their Own Dirt
The kids corner in the gardening store is overflowing with winged creatures and dollhouse furniture. Skip the junk. There's a better way to fairy garden. Read More →
Homesteading Turns Yardwork Into Doomsday Prepping. I'm All In.
Now that we've all had a taste of what the end times might look like, can we agree that having a well-mowed lawn is a stupid waste of soil? Where are my carrots at? Read More →
21 Ways to Make The Most of Your Fire Pit This Season
Because one of the saddest sights is a fire pit that doesn't live up to it's potential. Read More →
This Summer, Get a Keg of Beer
Having a few gallons of beer on tap sounds luxurious. In a summer of social distancing, it's necessary. So go ahead and order that keg. Read More →
Grilled Pizza is the Best Pizza
It's one of the season's most overlooked pleasures. Here's how to do it right. Read More →
The Best Plants for Kids Who Garden
Go beyond the traditional vegetable garden to learn and grow with your children Read More →
The Best Grills of 2020: Gas Grills, Charcoal Grills, Smokers, and More
Including kettle grills, smokers, and a high-end gas grills that can cook a football team's worth of food. Read More →
Trampoline Sales Are Booming. Injuries Are Sure to Follow.
American backyards are going bounce-crazy this summer. God help us all. Read More →
This article was originally published on